HCPSS' Teen Parenting Programs: Putting Students and Their Children on a Path to Success
May 24th, 2022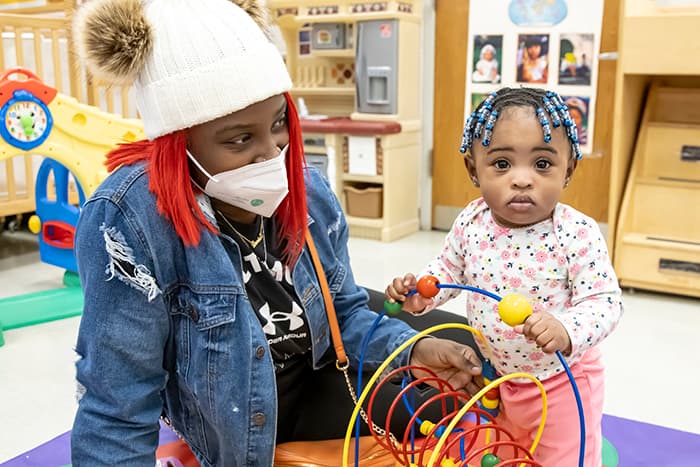 There is nothing easy about being a parent. But being a teen parent comes with a unique set of challenges. In addition to caring for an infant or toddler—and, in many cases, juggling a part-time job—many try to keep up with their school work.
It's an overwhelming combination—and one that leads many students to drop out of school.
Begun in 1985, HCPSS's Teen Parenting Program was developed to support the county's teen parents and provide them with the tools and resources they would need to complete high school. Initially housed at the former Vocational Technical building, now HCPSS Applications and Research Laboratory, the program moved in 1996 to Wilde Lake High School (WLHS) and has remained there ever since.
Today, the program has two components: outreach and childcare.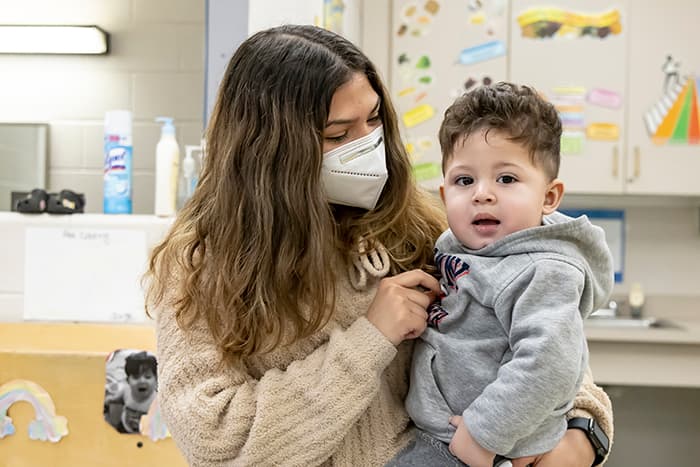 The Outreach Program provides academic and social support for pregnant teens, and for parenting teens who choose to remain in their home schools after the birth of their child. Some of the supports offered include referrals to community resources, prenatal and/or parenting education, and monitoring of students' grades and attendance.
The Childcare Program serves up to 12 students from across the county, along with 12 babies. Program participants receive free transportation to and from Wilde Lake, free diapers, and free child care provided by licensed providers during the school day. Participants also receive parenting classes and access to a wide range of community resources through partnerships with local organizations, such as the Howard County Library System and the Howard County Health Department.
"We provide students with the skills, resources, and community connections to take care of themselves and their child, and set them up to lead self-sufficient, productive adult lives," says school social worker Kazandra Anderson, who leads the program.
In addition, program participants receive academic support.
"We make sure that teachers understand these students' unique situations and work with them to figure out how best to meet their academic needs. We do whatever we can to ensure that the students graduate on time, with a diploma in one hand and a post-high school plan in the other," says WLHS Assistant Principal Yvonne Jackson.
Program participants also receive social and emotional support from the program staff (which includes a school social worker, a childcare specialist, and 4 childcare providers) and from their fellow program participants.
"Every new mom needs support and reassurance that they are not alone," says Claire Mathews, the program's child care specialist. "Our program connects students who are going through a similar experience and creates a safe environment for them to share their thoughts and feelings."
The Teen Parenting Program also strives to put a plan in place for the students' children.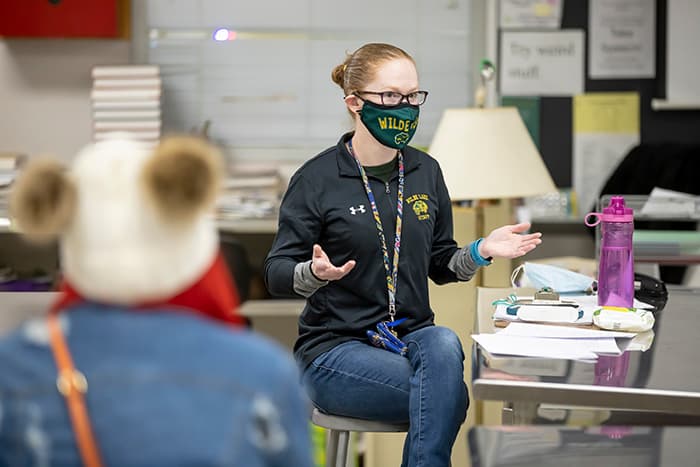 "We talk to our students about what they want their children's future to look like and we connect them with resources to help support that vision," Mathews says. "We recognize that in a few years, those babies will be HCPSS students, and we want to give them the best start possible."
Over the years, HCPSS' Teen Parenting Childcare and Outreach Programs have helped hundreds of students to complete high school. Below are several of their stories.
More information on HCPSS' Teen Parenting and Childcare and Outreach Programs is available online.
Brandy
Brandy got pregnant with her first child when she was a freshman in high school.
"I felt lost," she said. "I didn't know how to take care of a baby–and I definitely didn't know how I was going to take care of a baby AND do school."
Not long thereafter, Brandy connected with Anderson and learned more about the Teen Parenting Program.
At first, Brandy was skeptical. She worried about leaving her infant in the care of someone she didn't know. And she wasn't certain whether she would be able to manage academically.
Her feelings quickly changed.
"The daycare providers were so caring and loving; they welcomed both me and my child with open arms and were there to answer any questions I had," Brandy recalls. "And Mrs Anderson helped me to come up with a plan, so that I could get my school work done. If an issue came up, she would work with me and my teachers to figure out how we could resolve it and keep me on track to graduate."
At the same time, Brandy says, she developed an invaluable bond with other students in the Teen Parenting Program.
"The other girls in the program were like family to me. They understood what I was going through and helped me to realize that I was not alone."
When Brandy got pregnant with her second child during her senior year, she again felt doubtful about her future.
"I thought, I can't do it. This is too much. I need to give up."
Again, Anderson and her team stepped up to help.
"Mrs. Anderson took me aside and said, 'We can make a plan. We can do this together.'"
And they did. Brandy was able to leave her newborn son at the WLHS child care center (her daughter went to a different provider) and visit him throughout the school day. She continued to meet with other mothers in the program and share experiences about being a teen parent. And she continued to work with Mrs. Anderson and her teachers to make sure she was keeping up at school.
Brandy graduated from Wilde Lake High School in 2017. She since has enrolled in college and begun working as a paraeducator for HCPSS.
"It's impossible for me to imagine being where I am today without Mrs. Anderson, the daycare teachers, and the support I got from the other girls in the [teen parenting] program," she says. "I built skills and relationships that not only helped me graduate, but that I will carry with me for a lifetime."
Breyona
Breyona got pregnant during her sophomore year of high school, and like Brandy, had doubts about her future.
Mrs. Anderson connected her with a variety of community resources and helped her fill out applications for food stamps and low-incoming housing. Mrs. Anderson also encouraged her to go to night school so she could graduate high school on time.
"I didn't think I could do it, but Ms. Anderson encouraged me and believed in me and did everything she could to make sure I had the resources I needed to get through high school," she recalls.
Mrs. Anderson and the daycare program providers also helped Breyona determine that her daughter was autistic and connected her with HCPSS' early intervention services.
"Had it not been for their help, I wouldn't have known what to do or how to support my daughter," she says.
Breyona graduated from WLHS in 2015 and is now a student at Howard Community College and a paraeducator at a Howard County public school.
Lilliany
Lilli, too, found the Teen Parenting Program provided an invaluable source of support.
"When people find out you're going to be a teen parent, you can't help but feel like you are being judged. Being in the WLHS program, surrounded by people in the same situation, eliminated that feeling of judgment. Everyone there is in the same boat, aiming toward the same goal of trying to be a good parent and graduate high school–and we all have Ms. Anderson there, cheering us on," she says.
At the same time, Lilli says, her child benefited immensely from being in the WLHS daycare program.
"They held circle time and brought in people from the health department and the library to work with the kids. [The providers] really helped to instill good habits in the kids and give them as many opportunities for social and intellectual growth as they could," she recalls.
Lilli graduated in 2015 from MHHS and has since gone on to complete an undergraduate degree at the University of Maryland College Park Honors College. She is currently employed as a registered nurse at the University of Maryland Cancer Center.
Tiffany
Tiffany was at Hammond High School when she got pregnant and first learned about the Teen Parenting Program from her advisor.
"I was really nervous about having a child, but when I learned that I could go to WLHS and have him in the same building with me, I felt so relieved. It meant I could stop by and spend time with him between classes and not have to worry about him being in good hands."
Tiffany has also valued the support she herself has gotten in the program.
"If you ever need anything, the girls [in the program], Ms. Anderson, and the [daycare] teachers are right there."
Tiffany will graduate in May and be the first member of her family to complete high school.
Jennifer
Jennifer, an 11th grader at Long Reach High School, first learned about the Teen Parenting Program from a neighbor and former program participant.
"She gave me information about the program and explained how it could help me stay in school and get care for my baby," she explains.
Jennifer wound up enrolling in the program not long thereafter.
"I go to school, do homework over lunch and on the bus, and work. I don't know how I'd be able to manage it all if I didn't have the support from the daycare and Ms. Anderson. They make it possible for me to focus on school when I need to, and they take good care of my son while I am in class. They make sure that we have whatever support we need," she says.
Jennifer is on track to graduate next year and aspires to become a nurse.
Talea
Talea missed much of 10th grade due to pregnancy-related illness. When her son was born, she felt overwhelmed.
"It was a struggle," she says. "I was trying to keep up at school and work full-time and adjust to being a mom. It felt like too much."
On her school counselor's advice, she explored the Teen Parenting Program, hoping that it would help her manage. And that it did.
"From the moment I connected with Ms. Anderson, she was in my corner. She believed in me, even when I didn't believe in me," Talea says. "She helped me to realize that my decision to have a baby didn't mean I was stuck; she showed me that I could still make my future whatever I wanted it to be."
Talea will graduate in May and plans to become a certified daycare worker and mentor for girls who attend the Teen Parenting Program.