Staff Focus: Joshua Simmons, Custodian Day Supervisor, Mount View Middle School
January 6th, 2022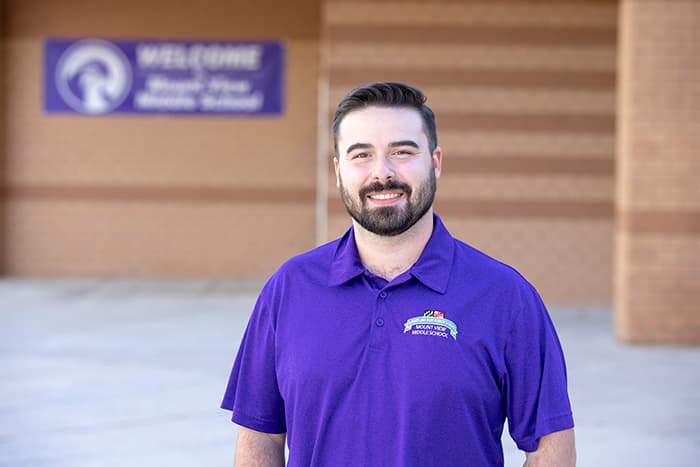 Joshua Simmons began working at HCPSS as a night building supervisor four years ago. Wanting to try something new, he switched to grounds maintenance. While he enjoyed aspects of that position, when the opportunity to return to custodial work and become a day supervisor opened up at Mount View Middle School, he jumped at it.
"Custodial work is the foundation of any successful building," Simmons says. "No one works well in an unsanitary or unclean environment. So I take pride in doing my part to set everyone up for success."
Every day, Simmons and his four-person custodial team perform a wide variety of tasks to ensure that students and staff have a clean space in which to learn and work. That includes cleaning bathrooms, classrooms, and the cafeteria, wiping down chalk and white boards, vacuuming, dusting, sanitizing surfaces throughout the building, picking up trash, setting up and breaking down tables and chairs for events, and restocking supplies. He also performs daily building inspections to verify that the system-wide standards for building cleanliness and hygiene are being met.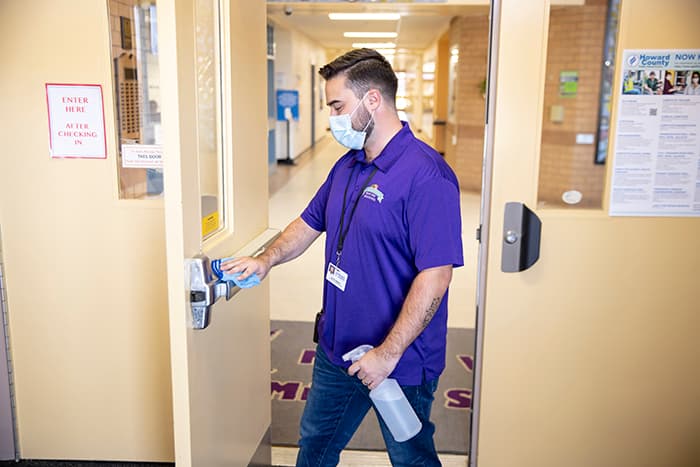 In addition, Simmons says, he spends his days responding to calls from staff needing assistance. He typically gets called in when there is a spill or a student gets sick. He also gets called in to handle more unusual requests, like removing uninvited creatures from a classroom.
"I've been called in to get rid of birds before. And I've dealt with more than a few spiders and spider webs," he says.
On the surface, such tasks may seem insignificant. But Simmons again sees it as doing his part to help create a healthy learning environment.
"If a student is worried about the spider on the wall or the bee that's flying around the room, they're going to have a hard time focusing on whatever the teacher is trying to teach them. If I can remove that source of concern for them, they'll be in a better position to learn," he says.
Simmons also places work orders for and routinely helps out with building maintenance. Sometimes, that entails fixing a student's desk, unclogging a drain, or helping a teacher get a projector to work. Other times, Simmons helps the maintenance crew to identify the source of a problem.
"I basically do whatever I can to take care of the small-scale issues, so that the maintenance crew can focus their attention on the bigger problems," he says.
Simmons also works closely with various building contractors, making sure that they keep the building in good condition during and after they complete their work.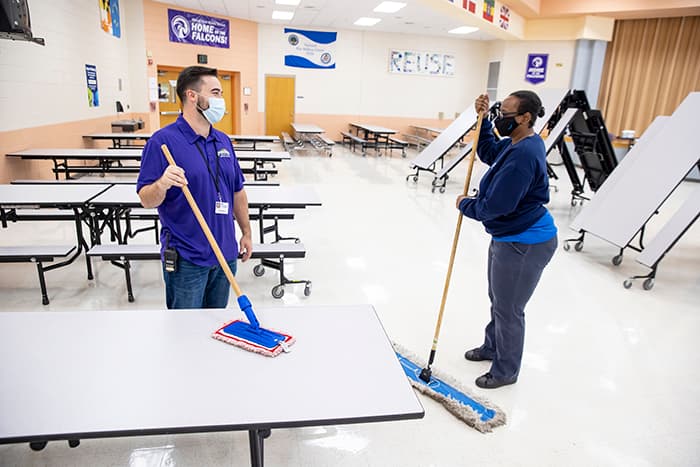 During COVID, Simmons' work has had a heightened focus on cleaning and sanitizing.
"While we have always placed a high priority on cleaning, since COVID hit, we are more diligent than ever. We are literally constantly disinfecting surfaces and checking hand sanitizing stations to make sure they are full, " he says.
Being a custodian is hard work, and there are definitely tough days, but Simmons says he genuinely loves what he does for a living.
"I love helping people and working with the incredible team here at MVMS. My custodians – James Peters, Ciera Willig, Bonnie Colson, and Myung Kim – are so hard-working and dedicated; and our staff, administrators, and the whole custodial management team are so supportive and appreciative of what we do."
At the same time, Simmons says he values the professional growth opportunities he has as an HCPSS custodian.
"Where you start doesn't have to be where you end here. If you have a can-do attitude and are willing to put in hard work, you can make your way up the ladder and take on different levels of responsibility. Plus, you always have the satisfaction of knowing that the work you are putting in is directly impacting students' ability to learn."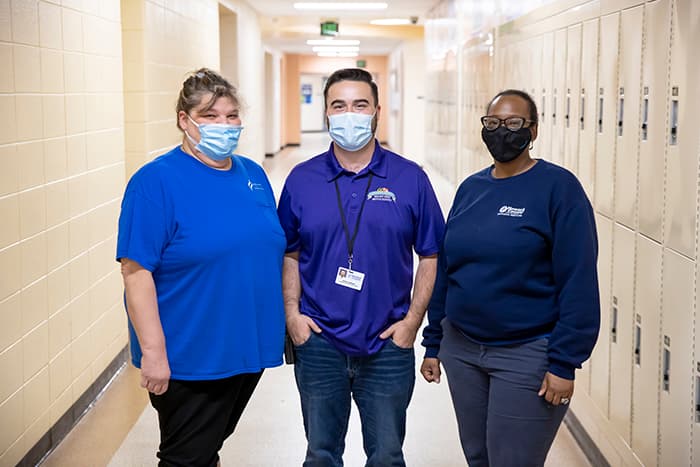 Simmons' passion for and commitment to his job does not go unnoticed by those around him.
Deborah Poe, assistant manager of custodial services, describes Simmons as a "great leader," who has "built an amazing team" and is always ready and willing to lend a helping hand.
MVMS Principal Lynnette Moore agrees.
"Mr. Simmons consistently demonstrates a high standard of excellence. Our building gleams and shines because Mr. Simmons treats MVMS like 'home.'"
Plus, Moore says, Simmons is committed to the MVMS community.
"Mr. Simmon's heart is built for establishing positive, supportive relationships with our Falcons."
HCPSS' Custodial Services consists of more than 400 school-based and non-school based staff, who work to ensure the health and safety of the system's 82 buildings. Together, they maintain the cleanliness of more than 8 million square feet daily.
Custodial Services is continually looking to add new members to its team. Application requirements and additional information about joining HCPSS' custodial services staff are available online.