Running Brook Partnership Provides Diverse Books to Build Home Libraries, Inspire Reading
January 13th, 2022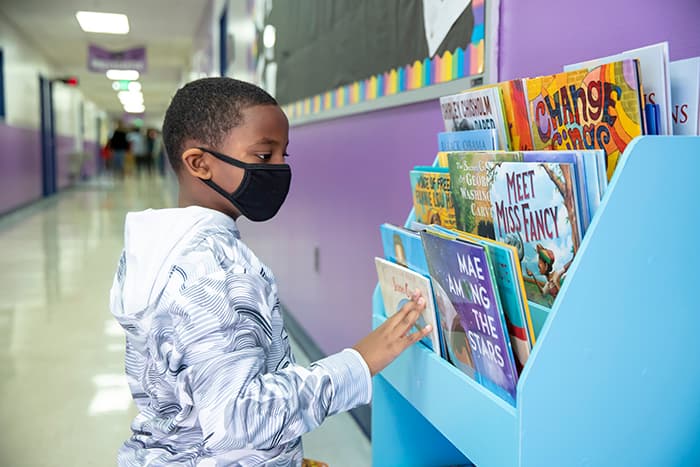 Thanks to a partnership with Always Reading, a Maryland-based nonprofit that works with Title I schools, Running Brook Elementary School (RBES) students not only have access to a steady stream of new books featuring diverse characters, stories, and perspectives; they also get to keep them.
Always Reading supplies a bookshelf and books that are carefully curated and cover a wide range of topics and genres, with the goal of providing students access to information and stories that they might not find elsewhere. This includes books on African-American history and African Americans who have made important contributions in science, literature, sports, and other areas. The books are also a mix of newly published material and "classics" like Ezra Jack Keat's "The Snowy Day."
"When students read our books, we want them to not only learn about what others have done and how those things have shaped our lives; we also want to inspire them and get them thinking 'That person is like me. If they can do something interesting or important, maybe I can, too,'" says Ramona Johnson, Always Reading's founder and CEO.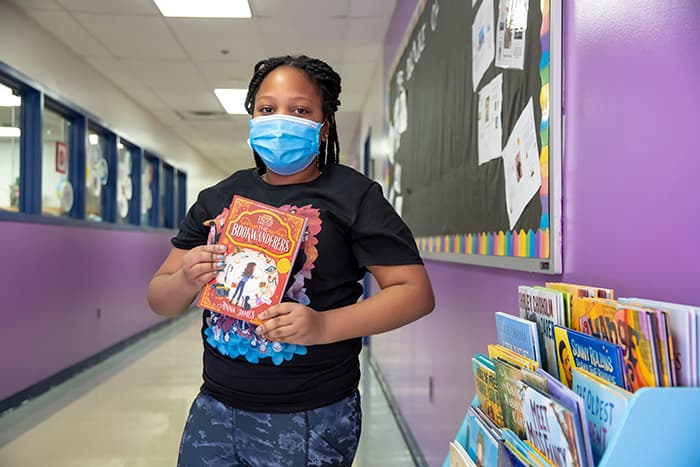 Johnson and her team also strive to select books that students of all backgrounds can relate to and that tap into universal human experiences like love and friendship.
"We want all students to be able to see themselves in the stories we choose," she notes.
At the same time, Johnson says, she wants to provide students with the experience of owning new books.
"Presentation really matters to kids. When they see a used book, sometimes they see something old or unwanted. A new book represents something very special. It's theirs to read, take home, re-read, and share with others."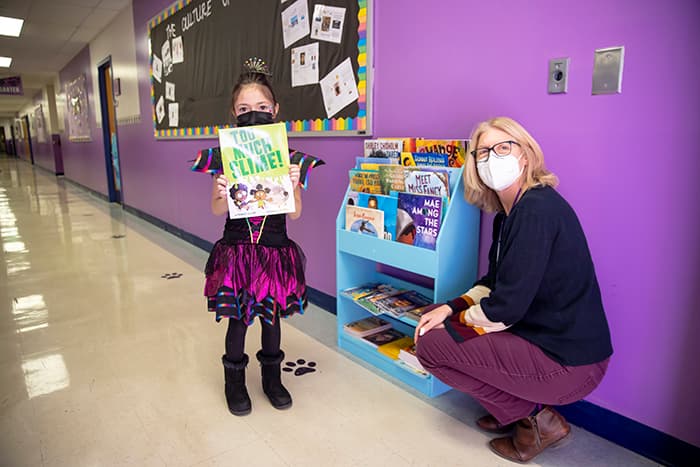 RBES Reading Support Teacher Elizabeth Shaffer works closely with Johnson to keep the bookshelf stocked with Always Reading books. Students can grab the books that interest them while they are coming into or leaving school and whenever their teachers allow during the school day. When the supply of books gets low, Shaffer reaches out to Always Reading and they replenish it with new ones.
Shaffer has seen the benefits of this partnership firsthand.
"It's hard to put into words just how meaningful and impactful our partnership with Always Reading is to our students. It gives them access to beautiful, new, hardcover books on so many valuable topics. It gives them the freedom to choose books that appeal to them–and to share those books with friends and family. It gives them the opportunity to build a library at home and practice reading skills outside of school. And it provides them with both windows into other people's lives and mirrors through which they can see and evaluate their own lives."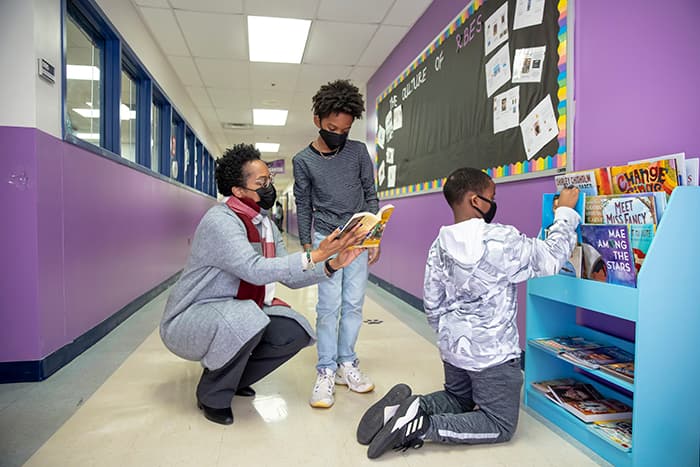 In short, Shaffer says, the partnership is "an incredible gift to the RBES community."
Since it began working with Always Reading in May 2021, RBES has given away approximately 250 new books to its students, including several signed by authors and illustrators.
In 2022, RBES plans to expand the partnership to include Always Reading's involvement in RBES' annual African-American Read-In event in February. Always Reading will provide free copies of two books (one for primary and one for intermediate) for RBES students to read and discuss during the event.