HCPSS Teams Up with FB4K to Provide Free Bikes to Students in Need
December 20th, 2021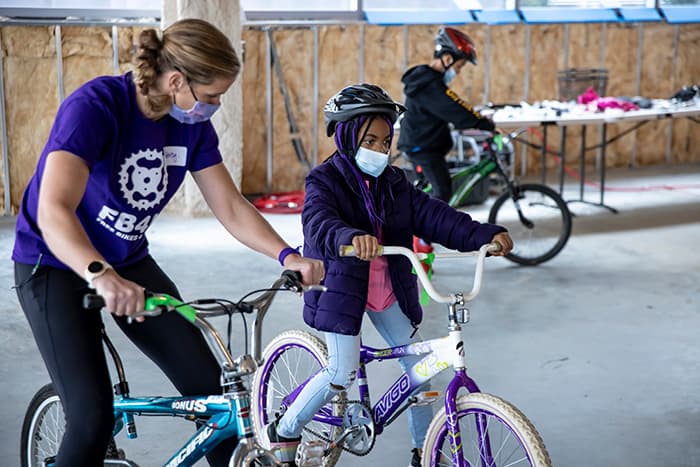 Ted Cochran has long held the belief that every child should have the opportunity to ride a bike.
Bikes afford children their first sense of freedom, he says. "When a child has access to a bike, they have a way to get out of the house and really expand the range of places they can explore."
That belief drove him to volunteer for Free Bikes 4 Kidz (FB4K), a non-profit organization in Minneapolis, MN focused on collecting gently used bikes and distributing them for free, along with a new helmet, to children in need.
Cochran volunteered for FB4K for nearly a decade before deciding to move back to Maryland, his home state. Having retired from his job at Honeywell, he found himself with time on his hands and a continued interest in helping the community. So, in 2019, he founded FB4K in Maryland.
"We started putting out calls for bikes and for volunteers, and the whole operation started to come together," Cochran says.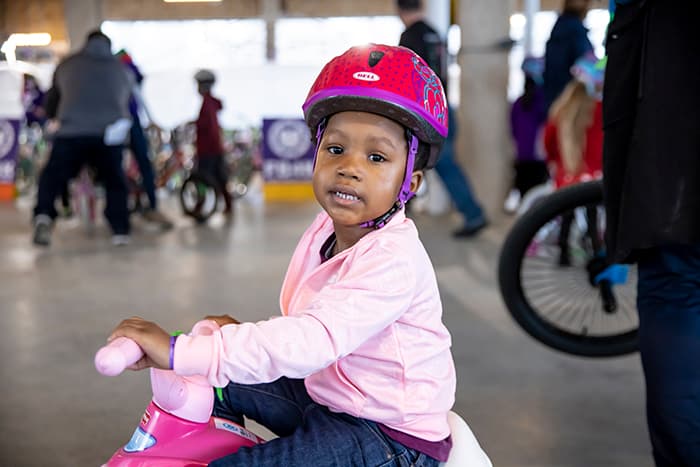 In its first year, FB4K in Maryland collected 512 bikes. Cochran and a team of volunteers worked together to clean, tune and distribute 492 of them. The remaining ones were too damaged or costly to repair and were scrapped after being disassembled and used for parts.
Cochran has since collaborated with various local organizations, including HCPSS, to expand FB4K's reach. He has created an application that organizations can use to request bikes on behalf of children in need. FB4K then matches each child with the appropriate size/category of bike, and families come to collect the bikes on an appointed distribution day.
This year, distribution day was Dec. 11. FB4K gave away close to 1,100 bikes at the event.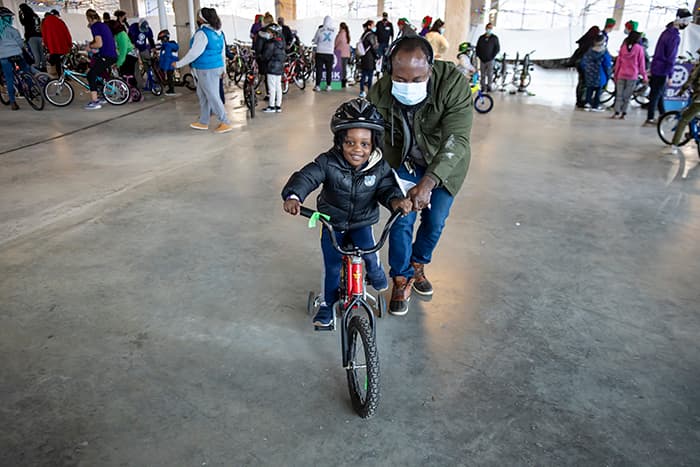 "FB4K's operation is amazing, from collecting the donated bikes through distribution. Our students were so excited when they arrived to get their bikes, they were smiling from ear to ear," notes Mary Schiller, HCPSS' manager of community partnerships, who attended the Dec. 11 distribution event.
"It's such a great feeling to help a child find a bike that fits their needs so that they can experience riding one for the first time," adds Cochran. "It can be a life-changing event. And even if they decide that bike riding isn't for them at present, they've learned a skill that may serve them well later in life."
FB4K plans to give away a total of 1,700 bikes by the end of 2021.
Learn more about FB4K, including how to donate bikes and volunteer, online.