An Inside Look at Inclusive Prekindergarten
December 7th, 2021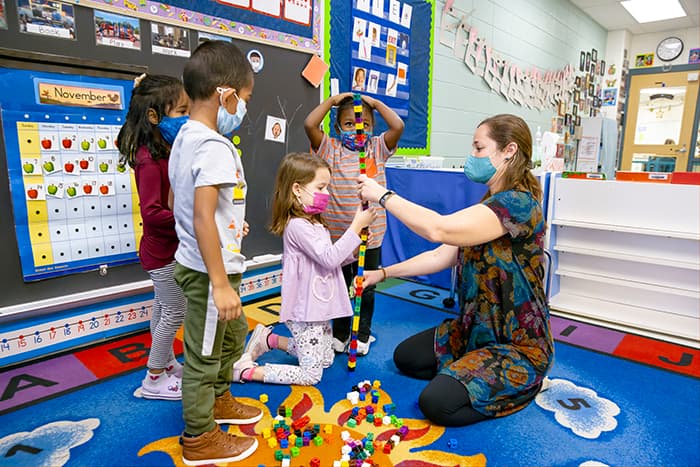 At a glance, the prekindergarten class at Veterans Elementary School (VES) operates like any other pre-K you might imagine. The students have a daily routine that includes circle time, a full academic curriculum, and various opportunities to build social, emotional, and physical skills.
A closer look reveals a number of factors that set the VES pre-K program apart. To begin, Veteran's pre-K program is inclusive. That means it is a blend of typically developing students and students with a range of special needs. VES' pre-K also is co-taught by a general education teacher (Lea Clink) and a special education teacher (Casey Beaucage) and is supported by a paraeducator.
These features offer a host of benefits to students and teachers alike, explains Clink.
"In an inclusive setting like ours, students are exposed to different learning styles. While some students communicate verbally, others may use a communication board and pictures. They learn to understand and appreciate the differences that everyone brings to the classroom."
Moreover, students learn how to focus their attention, even when there are many things happening around them.
"Because we have students with a variety of needs, we often have adults coming in and out of the room to provide related services, like occupational and speech therapy," Clink says. "Our students are used to this; it's part of their educational environment."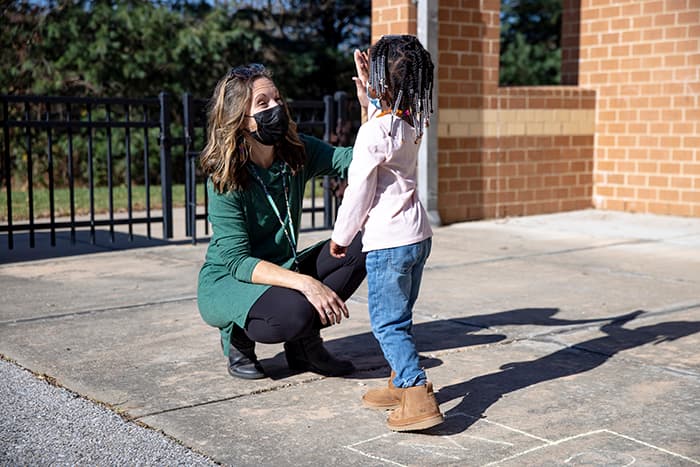 Students in the VES pre-K also learn and practice acceptance and empathy, says Beaucage.
At the same time, Clink says that being in an inclusive setting provides students with unique opportunities to build confidence and leadership skills.
"This program is a wonderful building block for all students. Typically developing peers may act as models in the classroom, demonstrating independence and interpersonal skills as they navigate the school day. This provides an opportunity for students with special needs to mirror their peers' positive learning behaviors and strengthen their own independence."
Students in the VES pre-K also benefit from the extra support made possible, and the extra perspectives made available, through co-teaching.
Beaucage says co-teaching is beneficial when a student requires extra help or support in a specific area of need. Occasionally, students may respond better to one teacher than another, which makes it helpful to have interchangeable roles.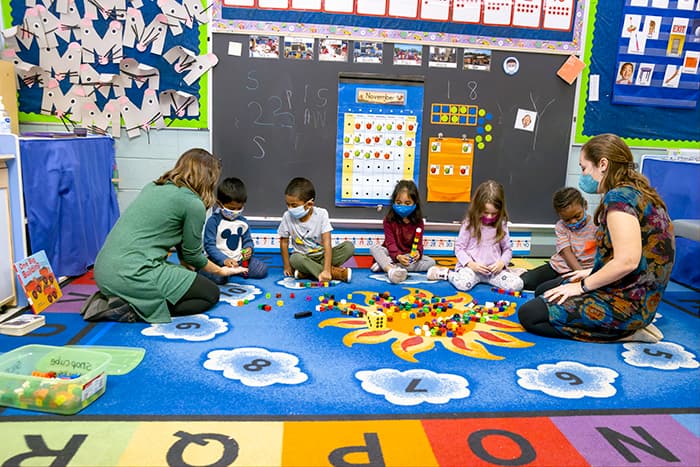 "Because there are two of us, we can divide and conquer. One of us can work one-on-one with the student, providing extra support, while the other one can attend to the rest of the class and make sure that their needs are being met as well."
One of the greatest benefits of the VES inclusive pre-K – and inclusive classes more generally – is the sense of belonging it promotes among students, says Scott Callahan, HCPSS' Facilitator of Diversity, Equity, and Inclusion.
"Inclusive education helps students feel connected to one another. It helps them to see that they are part of something greater–something that doesn't single them out, but instead bonds them together."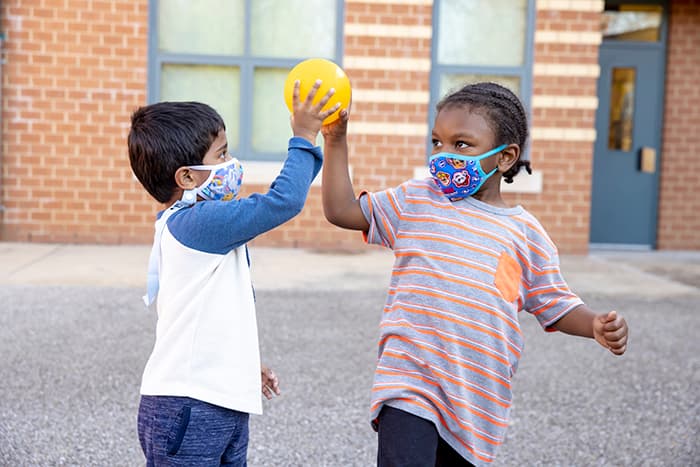 Adds HCPSS' Coordinator of Early Intervention Services Jennifer Riccardi, "HCPSS has a long history of purposeful and meaningful inclusion as an integral part of our early childhood programs. We place high value on the benefits of children learning from and with each other, celebrating each other's differences as strengths."
VES pre-K parents sing the inclusive program's praises, noting the growth and development they have seen in their children.
"Since my daughter has started pre-K, she has flourished," says Kierstin Burton. She has learned so much over the past few months, from being able to write her first name and even identify 'more or less' with objects. I am very proud of her and I cannot thank her pre-K teachers enough!"
VES pre-K parent Maria Laskey agrees.
"I cannot say enough good things about the inclusive pre-K program at VES. This program not only meets my daughter at her own personal level, but it amplifies her strengths while giving her tools to help her where she struggles. My daughter's teachers provide incredible daily structure and creativity that help keep my daughter engaged and growing. I can honestly say that my daughter and her development would not be where it is without this incredible program!"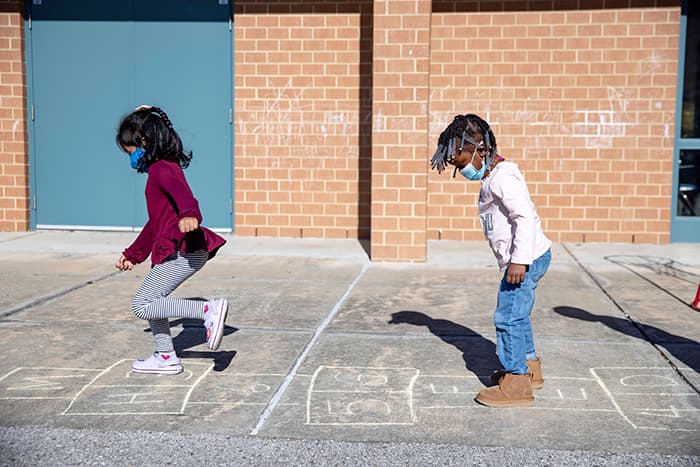 HPCSS offers inclusive prekindergarten programs to eligible students in all attendance areas throughout Howard County. Additional information, including details on how to apply for pre-K and other prekindergarten options, is available online.