First Baptist Church of Elkridge Provides Weekend Food Program for Students
November 1st, 2021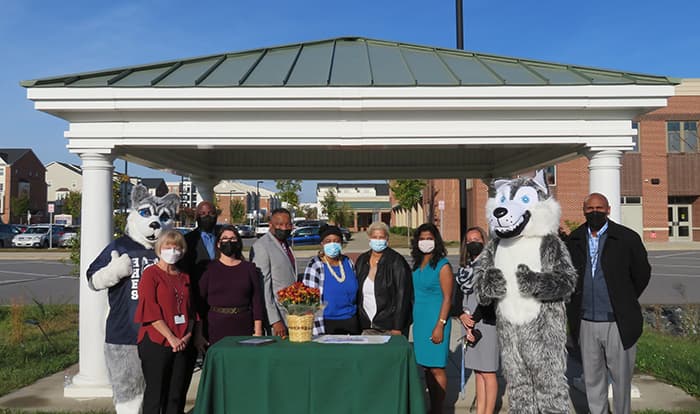 Hanover Hills Elementary School (HHES) and Thomas Viaduct Middle School (TVMS) have partnered with First Baptist Church of Elkridge to provide students in need with food support during weekends and holidays. The partnership was formalized with an official partnership signing on Thursday, October 28.
Under the terms of the agreement, First Baptist Church of Elkridge will collaborate with HHES and TVMS staff to identify students who may be in need of food support and provide weekly packages of nonperishable supplemental food during weekends and extended school closures. First Baptist Church will also offer emergency assistance to families relocating to the community or facing hardships.
The formal partnership agreement was signed by HHES Principal Troy Todd, Thomas Viaduct Middle School Principal Shiney John, First Baptist Church of Elkridge Pastor David Lanier III, Elder Peggy Carmichael and Sister Rhonda Oliver.
First Baptist Church of Elkridge offers congregants a place of comfort, hope, and peace of mind.
The Howard County Public School System's Partnerships Office has united schools with more than 1,000 businesses and community organizations to enhance the educational experience of Howard County students. Partnerships benefit schools, businesses and the entire community by leveraging the resources of all participants. Partners may commit human or financial resources or other support.