Staff Focus: Javion Hinmon, School Bus Driver, Registrar
September 14th, 2021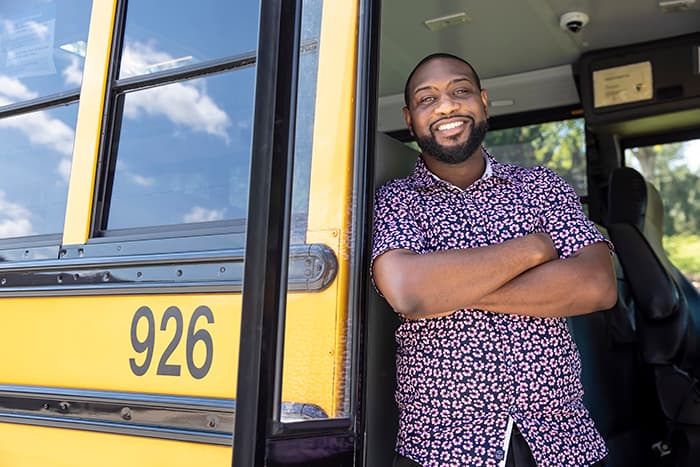 HCPSS bus driver Javion Hinmon picks up his school bus at 6 a.m. and starts his first run at 6:20 a.m. He drops students off at Long Reach High School (LRHS) and works from 7 a.m.-2 p.m. as one of LRHS' registrars, and on Tuesdays and Thursdays, he works in Student Records Management at the Applications and Research Lab. At the end of those shifts, he gets back on the bus and does his afternoon drop-off for LRHS. From there, he drives over to Elkridge Landing Middle School, where he picks up and drops off another set of students. He repeats that process two more times – first at Rockburn Elementary School and then at Elkridge Elementary School – before calling it a day.
"There's no question: I am on the go all day long," says Hinmon. "But I love what I do and wouldn't have things any other way."
Hinmon began his bus driving career in 2011 in Virginia Beach after he graduated from college. He knew he wanted to work with children, and driving school buses seemed like a great place to start. As time went on, he moved into an administrative role in the Virginia Beach City Schools. But when COVID hit, he decided he wanted a change. He moved to Baltimore City and in May 2020, he began driving buses for HCPSS.
"A lot of people were hesitant to drive school buses at that time because they were worried about exposure to COVID," Hinmon explains. "I knew that meant there was a need for drivers. Plus, I knew that many kids couldn't get to school unless they had access to a bus. So, I decided to help out."
For Hinmon, bus driving isn't just about transporting students from point A to point B. It's about building relationships with them and letting them know that no matter what else is happening in their lives, he is there for them.
As a result, Hinmon says, many of his bus riders see him more like a big brother or a father figure.
"It's a really wonderful feeling. These kids get on the bus, eager to tell me what's going on in their lives. Whether it's good or bad, they come to me, knowing that I'll listen and do whatever I can to help them out."
Hinmon also finds great satisfaction in getting to know the parents on his routes.
"The parents are so appreciative of the service I provide. They go out of their way to thank me. It's really heartwarming," Hinmon says.
Even on the more challenging days, Hinmon feels he has the best job there is.
"Bus drivers have a unique opportunity to see kids day in and day out. Being a part of their lives, seeing them smile, watching them grow; it's incredibly rewarding."
LRHS principal Joshua Wasilewski is one of many who has observed Hinmon's positive impact firsthand.
As Wasilewski notes, "We are so grateful to have Javion. He has made a such tremendous impact on our students and families as both a registrar at LRHS and bus driver."
Independent school bus contractors provide bus transportation for HCPSS students, and are hiring for immediate openings. Application requirements and additional information about becoming an HCPSS bus driver are available online.