Guest Voice: Young People Serving Others During the Pandemic
April 16th, 2021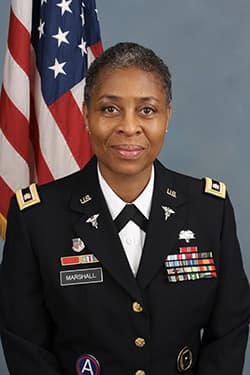 Patricia L. Marshall, Lieutenant Colonel (US Army Retired), is Senior Army Instructor, US Army JROTC at Howard High School, she graduated OMHS class of 1978 and attended Hampton University and was commissioned as a Healthcare Logistics Officer in the Army Medical Service Corps. LTC (USA Ret) Marshall service included 2 assignments in South Korea, Desert Shield/Storm, and various locations in the U.S.A. Following a 21-year military career, she joined HCPSS and has led the Honor Unit with Distinction Army Junior Reserve Officer Training Corps (JROTC) program at Howard High School for 18 years. Here she describes how Howard HS JROTC cadets applied resourcefulness, determination and creativity to ensure their annual service project would continue despite the pandemic.
The Howard County Public School System notified staff and students on Thursday, March 12, 2020 that we would be converting to a virtual learning platform on Monday, March 16, 2020. At that time, all of us thought that after Spring Break, classes would resume as normal. It only took a few days to realize that virtual learning would be our new normal.
By fall 2020, still in a virtual learning environment, the Army Junior Reserve Officer Training Corps Cadets of the Lion's Battalion began to worry that our Annual Service Learning Project for the Lorien Nursing Home, scheduled for December, might have to be cancelled.
We've partnered with the Nursing Home Activity Director and hosted a holiday party for this facility for approximately 17 years. Most cadets will quickly tell you that it is the highlight of their school year. During the event, our classroom transforms into Santa's Mid-Atlantic Workshop, with holiday music, cadets in elf hats, and assembly lines producing gifts, crafts, and cards. The highlight of the Service Learning Project is an onsite party where we bus approximately 50 cadets to Lorien Nursing Home, provide performances, and distribute gifts to residents and staff.
The Lion's Battalion Command and staff held a virtual meeting and decided that nothing would stop our annual project, not even a pandemic. They began meeting and strategizing. The cadets, led by our Special Projects Officer (S-5) Cadet Captain Kandie, put together a plan involving our three Cadet Companies and our school community.
While some of the Lion's Battalion "elves" were busy at home making cards and wrapping donated gifts, the rest of the cadets held virtual practices and put together a video featuring virtual performances by each Cadet Company, with individual performances showcasing everything from basketball tricks to jump-roping, and jokes and holiday cheer from our Cadet Chain of Command.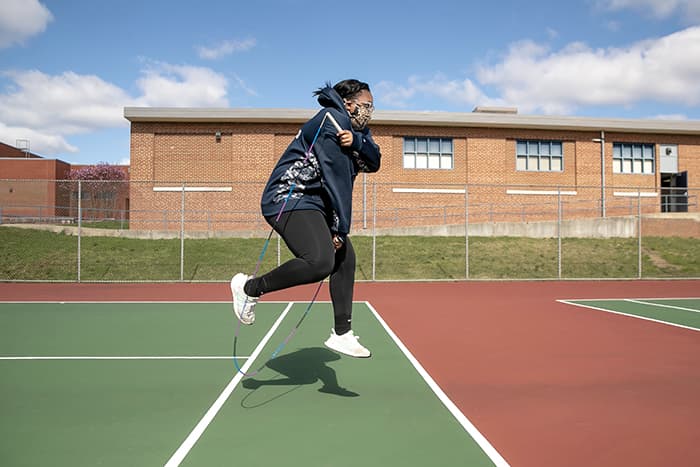 Photo caption: Mayah Francisco, a Howard High School JROTC student, showcases her jump-roping talent in her segment of the holiday video produced for Lorien Nursing Home residents.
In my 18 years serving the Lion's Battalion and the Howard High School community, my proudest moment has been watching these cadets press on despite the pandemic and find a way to serve others.
Sergeant First Class (US Army Retired) Shawn L. Boone, Army Instructor, US Army JROTC, Howard High School contributed to this article.