2021-2022 SMOB Election to be Held Online on May 5-7, 2021
February 23rd, 2021
April 28, 2021 Update: The SMOB election, originally scheduled for May 3-5, has been rescheduled. The election will now take place between 8:00 a.m. on May 5 and 12:00 p.m. on May 7.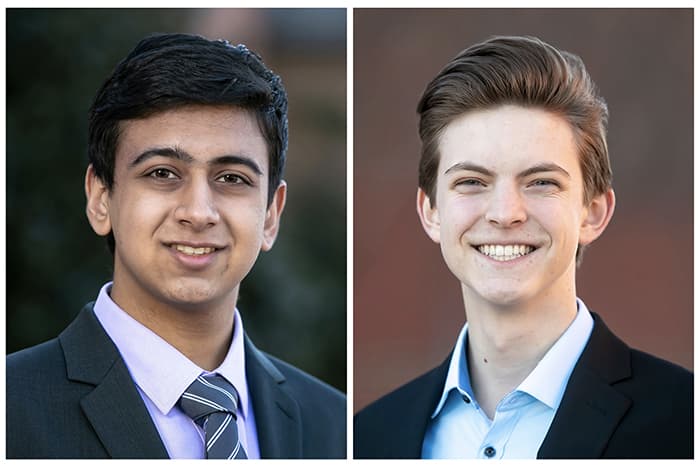 The Howard County Association of Student Councils (HCASC) will hold its online general election for the 2021-2022 Student Member of the Board (SMOB) on May 3-5, 2021, with students voting on Canvas. The 2021-2022 SMOB candidates are Peter Banyas of Howard High School and Dhruvi Mirani of Glenelg High School.
The two candidates were chosen from among 13 nominees at the HCASC Convention, held February 17 with 132 delegates participating. Convention delegates are nominated by their principals and peers to represent each middle and high school across the Howard County Public School System.
Banyas and Mirani will use social media, personal websites, and the HCPSS Student Community Canvas page to articulate their respective platforms and why they are the best choice to represent the student body on the Board of Education next year.
All 6th-11th grade HCPSS students are eligible to vote in the SMOB election. Students will receive Canvas announcements explaining the election and voting process. Media specialists at each school will facilitate the voting process and the HCASC advisor will collect results from each school and compile all data in a final report to the Board of Education.
As in the past, students will have the ability to watch a video about the candidates prior to casting their votes. The video will feature the candidates' personal statements and answers to questions about what they hope to accomplish as SMOB, as well as the relevant experiences they bring to the position. Videos are available for viewing on the Howard County Student Community Canvas page.
The new SMOB will be sworn in during the July 8, 2021 Board meeting to serve as a member of the Howard County Board of Education during the 2021-2022 school year. The SMOB is eligible to vote on all issues except those pertaining to budget, personnel, or other restricted matters.
HCASC student leaders facilitate and manage both the campaign and election process with guidance from the HCASC Advisor and HCPSS central office staff. The SMOB election process aims to empower students to learn and put into practice the habits of mind it takes to serve as engaged and informed citizens. HCASC provides an enriching experience for candidates where they can find meaningful ways to lead and serve either as the next Student Member of the Board or in other HCPSS student leadership positions throughout the school system.
For more information, contact HCASC advisor Cindy Drummond at cindy_drummond@hcpss.org.