New Playground Signs Help Students Communicate and Play Freely, and Build Inclusive Community
October 27th, 2020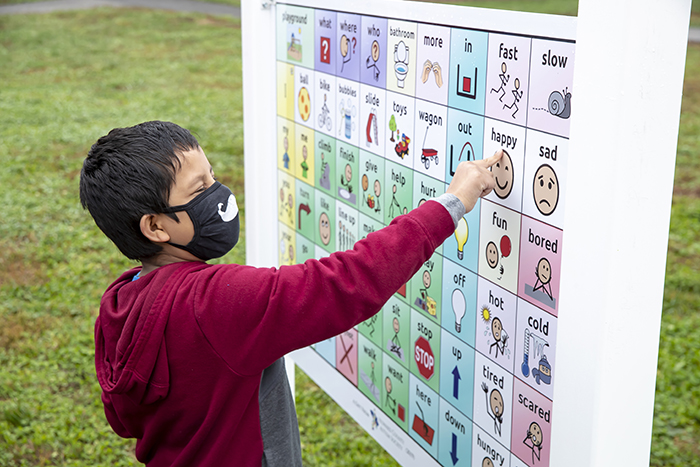 HCPSS and the Howard County Autism Society (HCAS) recently hosted a groundbreaking event at Waverly Elementary School for the installation of playground signs that assist students who are nonverbal and use communication devices. The signs, donated by HCAS to eight HCPSS schools, are believed to be the first of their kind at a public elementary school playground in Maryland.
Students will be able to point to pictures on the communication signs, which mimic the displays on Augmentative and Alternative Communication (AAC) devices, to express their thoughts, feelings, needs and choices. The sign's vocabulary design is based on TouchChat, a commonly used communication app for AAC devices. By using these signs, students will no longer need to carry their personal AAC devices with them, as the wearing of these devices can make it difficult to access the playground equipment easily.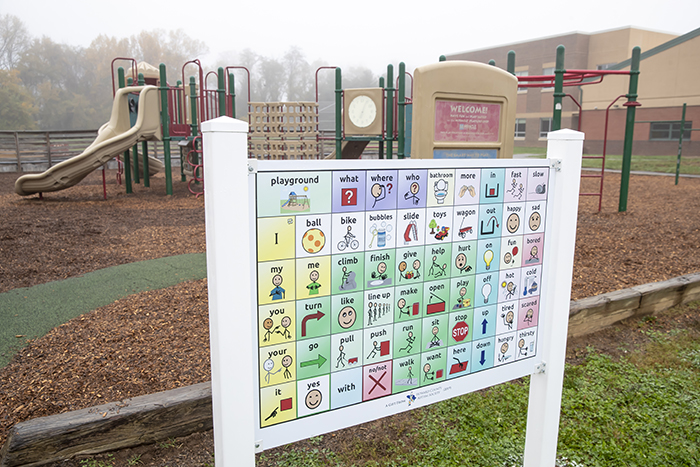 "I'm grateful to the Howard County Autism Society for these communication signs, which will help make our elementary school playgrounds more inclusive for everyone. Our efforts together allow our children who use Augmentative and Alternative Communication devices to find the power of communication and the freedom to have fun on the playground like their peers," said HCPSS Superintendent Michael J. Martirano.
The signs will help foster a sense of community and an inclusive, equitable environment while exposing all students who use the elementary school playgrounds to AAC technology. Once HCPSS schools physically reopen, plans are underway to train staff and peers on how to model language and interact with students using the communication signs during recess.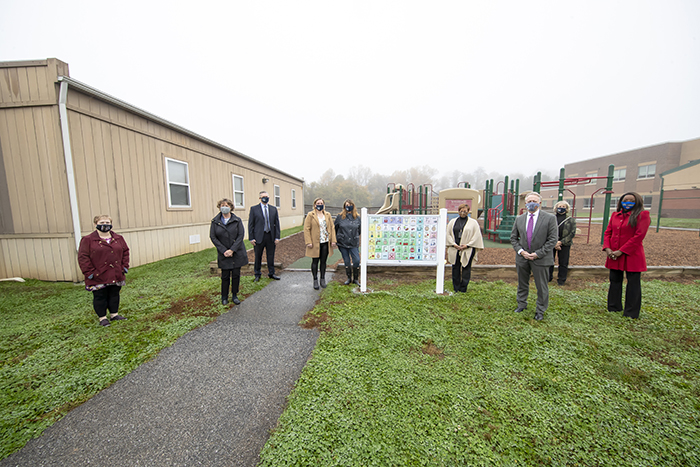 "These communication signs were commissioned by the Howard County Autism Society as its gift to the children, families and staff of HCPSS," said Katie Gandy, the HCAS Board Member who led the project and whose own son, an HCPSS student, utilizes an AAC. "They will not only bring awareness to AAC devices, but also increase equity for those children with learning and communication differences. And exposure to these signs for neurotypical children is just as beneficial, so they can communicate with their peers who use AAC systems of communication."
The groundbreaking ceremony marked the first installation of the communication signs, which will also be at the following school playgrounds: Cedar Lane School and Bellows Spring, Clarksville, Dayton Oaks, Ilchester, Pointers Run and Rockburn elementary schools. The schools were chosen due to the number of students who attend special education programs and communicate using AAC devices.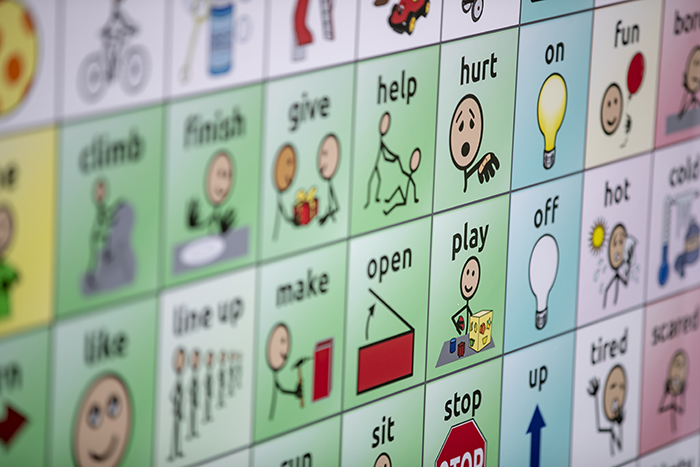 "The playground signs are an innovative approach for co-creating more inclusive experiences for students with unique abilities and represent a promising step toward building a stronger sense of community for our students," said HCPSS Department of Special Education Executive Director Terri Savage. "The partnership that made this idea a reality is yet another indicator that, together, we can do more to serve our youngest learners receiving early intervention and special education services and their families."
These signs were a gift from HCAS to HCPSS and funded through an HCAS special fund, which is earmarked for projects or endeavors created or initiated by the HCAS Board of Directors. This endeavor was made possible due to the collaboration of several organizations, including HCPSS Department of Special Education, HCPSS Ground Services, HCAS and Sharma & Associates.