Guest Voices: Giving Visibility to the LGBTQ+ Community
June 8th, 2020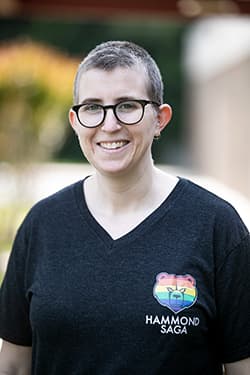 Danielle DuPuis is a library media specialist and video production teacher at Hammond High School, where she has worked for the last decade. She loves reading, writing and taking adventures with her wife and their three children. Here she writes about the successes of the inaugural HoCo Rainbow Conference and Rainbow Vision Literary Magazine, which she led to fruition.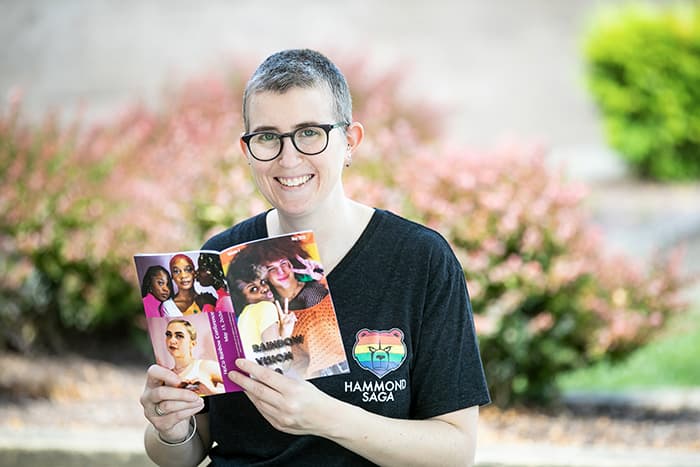 Almost two years ago at a Hammond High School Sexuality and Gender Alliance club meeting, students voiced their concerns about bullying and a general lack of understanding of LGBTQ+ youth among their peers, parents and teachers. These same students also expressed an interest in meeting LGBTQ+ students from other schools. And so the idea of an educational "rainbow" conference to support and advocate for LGBTQ+ youth was conceived—a conference where students, parents, staff, and community members could meet and learn together from LGBTQ+ community members. The idea began small and quickly grew.
We began by brainstorming some ideas for potential speakers. Kevin Naff, editor and co-owner of the Washington Blade, came to our school in March 2018, so he was one of the first people who was called to see if he would be interested in presenting at an LGBTQ+ conference at Hammond. He said he would, and so then began the outreach to others in the community.
As the 2018-2019 school year came to a close, the conference date was set, the school spaces booked; an email address, website and social media pages were created; $10,000 in grant funding through two different grants was obtained; our keynote speaker had committed; seven of our 20 eventual concurrent session speakers were lined up, including HCPSS employees Suzi Gerb and Robyn Page (in partnership with Ying Matties representing Community Allies of Rainbow Youth); and several in-kind donations for door prizes were received.
By the start of the current school year, several more concurrent session speakers had made commitments, buses were reserved to transport students from every high school to Hammond for the conference, and our first platinum sponsor, PFLAG Howard County, made a donation to the conference.
In conjunction with this conference, one of my two student G/T interns, Hammond sophomore Uma Ribeiro, and I started the Rainbow Vision Literary Magazine. The original Vision Literary Magazine was started at Hammond High School by English teacher Mary Goff and her students. When the magazine began to wind down last year, we took the Vision and reimagined it into the countywide Rainbow Vision Literary Magazine in which high school students from throughout Howard County could submit their stories. We received submissions from all but two high schools, and published them in our 86-page magazine. Copies of the Rainbow Vision will be distributed to HCPSS high schools as soon as restrictions are lifted.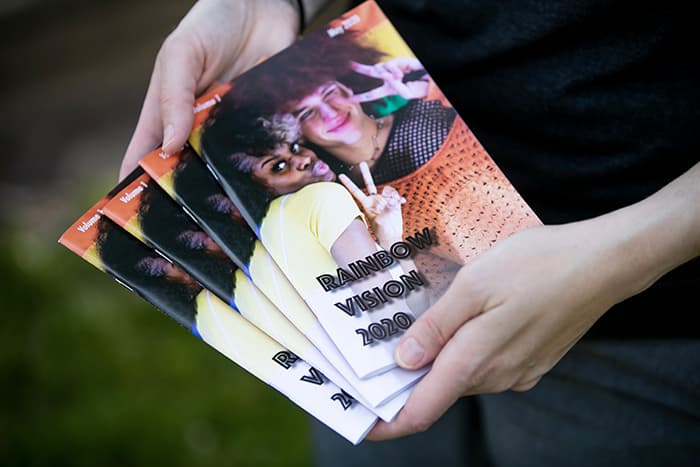 The combination of the HoCo Rainbow Conference and publication of the Rainbow Vision has given visibility to LGBTQ+ students, staff and community members. The HoCo Rainbow Conference provided a safe space for students, staff, parents, and community members to become more aware and sensitive to LGBTQ+ issues, and to learn ways to be better allies or better advocates for themselves. The Rainbow Vision was a way to provide a platform for students to raise their voices and share their own stories from the LGBTQ+ and ally lens.
Originally, this conference was to be held as a half-day conference at Hammond High School on May 15, 2020. We had a keynote speaker (American travel journalist and LGBTQ+ rights advocate Mikah Meyer), an exhibition hall, plans for a meet-and-greet with student authors, performances from our dance, music and theatre departments, and so much more. When the shutdown occurred just as we opened up conference registration, it was difficult to stomach the thought of countless hours of love and hard work being lost, so a bit of scrambling was able to bring this conference online instead of face-to-face.
We had over 300 attendees at our online conference: 82% of attendees live and/or work in Howard County while 8% live outside Howard County, and 10% reside out of state. Of those attending, 45.6% identified as LGBTQ+, 44.7% identified as allies, while 9.7% preferred not to answer. Students made up 28.4% of conference attendees, and HCPSS staff members made up 27%, with at least one student or staff member from each HCPSS high school present. Additionally, 11% were parents, and 20.4% were Howard County community members.
When we asked attendees what they most enjoyed about the conference, the feedback was overwhelmingly positive:
"Aside from the awesome and helpful information, I really enjoyed getting to know other people through the chatbox. I'm excited that a couple of people already contacted me to help start a GSA at the middle school where I teach." – HCPSS educator
"The quality of presenters, topics, organizations were OUTSTANDING." – MCPS parent of an LGBTQ+ student
"Learning how I can play a better role in the community." – HCPSS student
"The inclusivity. Even though I'm from out of state and knew no one else attending, it felt like I was among friends." – Educator from Kentucky
Next year, we'll be exploring ways that we can have both a face-to-face and online conference to meet the needs of our many attendees. We hope that next year's conference is bigger, better, and that we continue to see improvement in advocacy and activism for our LGBTQ+ community through HCPSS.
If you'd like to hear from presenters at the conference, many are being featured on the Rainbow Pridecast. I'd also recommend giving us a follow on social media to stay apprised of next year's conference and when submissions will be open for students to submit to Rainbow Vision on Twitter and Instagram, @HCPSS_pride. You can also visit our conference website.