Celebrating HCPSS Staff During Continuity of Learning
May 28th, 2020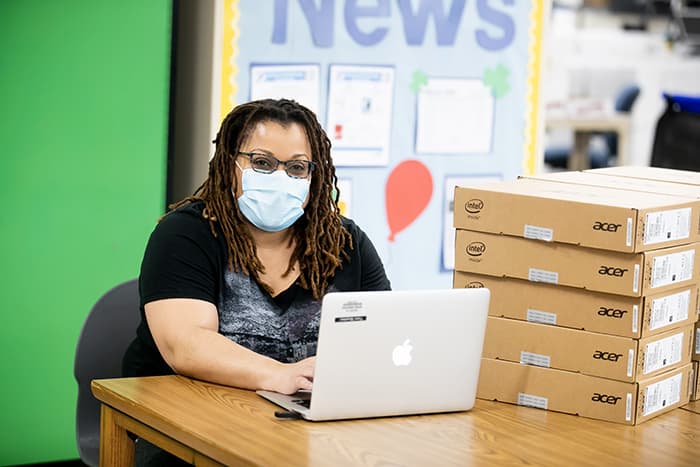 In response to the Coronavirus pandemic, HCPSS buildings have been closed since mid-March; however, the school system has been anything but shut down. On the contrary, countless staff members across the system have gone above and beyond their normal duties, demonstrating their innovation and commitment to supporting student success. Below are a few highlights, including testimonial quotes from their colleagues' nominations.
The warehouse staff, led by Manager Kenneth Porter, have been instrumental in keeping HCPSS operating through the distribution of Continuity of Learning materials, Chromebooks, school supplies and more. "Kenny and his team have been working nonstop since the closure began and definitely deserve a shout out for their unwavering dedication to HCPSS students, staff and community members."
Likewise, Asset Management Assistant Manager Monique Ingram has worked tirelessly to deploy computers to students. "Whenever I ask Monique to do one extra thing, she always says yes because she knows that these devices are essential for our neediest students' ability to continue their instruction."
Elkridge Landing Middle School Media Specialist Kimberly Sheibley is considered a "super-hero. Without her leadership with all things technology- and Canvas-related, our instruction would not be as amazing as it currently is now. Kim is behind us cheering everyone on, giving us sound advice, offering to help and never tiring."
Elkridge Landing Social Studies Teacher Chelsea Bradcovich has spent countless hours creating and designing Canvas pages for students, so "these pages are meticulously organized, incredibly engaging (including history jokes for students every week!), full of rigorous content, and also fun activities…Her hard work and passion for this job are combining to bring JOY to so many students during this difficult time."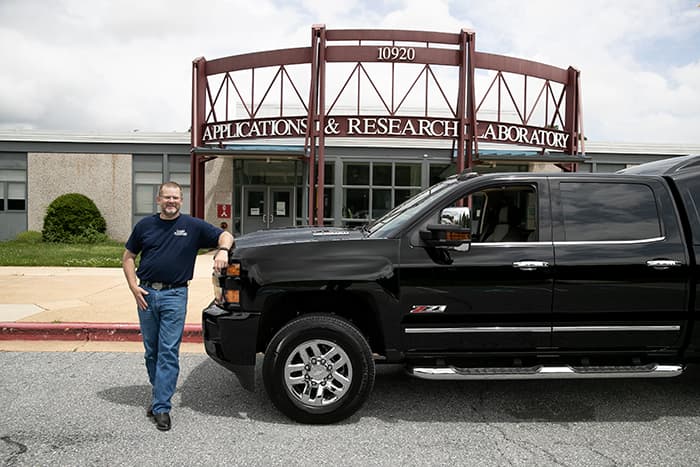 CTE ARL Automotive Technology Academy Teachers Jerry Burns, Tom Dearstine and Shawn Stanley are commended for keeping their students motivated and engaged as they build even stronger relationships. Overall, "the students can be themselves, and they feel a confidence because they are allowed to make mistakes in order to learn." In Mr. Burns' class, students have even taken virtual field trips to solve a student's car problem and see the teacher's Mustang.
At Deep Run Elementary School, "the strong relationships and trust the two special education teams–led by Colleen Huelskamp [at the K-5 level], and Elana Lorezen and Patrice Smith [of RECC]–have established with families prior to schools being closed, have enabled all students with special needs to access distance learning." Notably, they have been "super creative to maintain the attention of 3 and 4 year olds through a computer screen" for the Regional Early Childhood Center (RECC) program.
Cradlerock Elementary School ESOL Teacher Natalie Torres has exceeded her teaching responsibilities with her incredible engagement efforts to check on family well-being, and ensure they have the resources and confidence for distance learning. Cradlerock ESOL Paraeducator Isabel Crisp has been credited as the "behind-the-scenes, passionate and tireless support for our second language families and ESOL Teacher, Ms. Torres."
Administrative Secretary Karen Heinly and Home and Hospital Teacher Nancy Ennis have made it possible for students receiving Home and Hospital services to better reconnect with their teachers. The pair "have been working tirelessly to assist Home and Hospital teachers learn new skills to access virtual learning with the new Continuity of Learning format."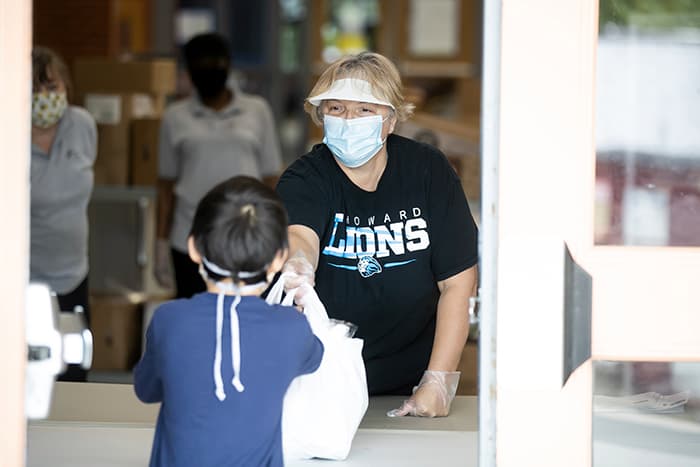 HCPSS has served more than 800,000 free meals since school buildings closed, thanks to dedicated Food and Nutrition Services staff like Howard High School Cafeteria Manager Kristin Rhodes. She has always been known as "a rock star at Howard…and here we are, many weeks later, and she and many other Food and Nutrition Services staff are still working diligently to make certain our families do not go hungry."
At a time with constant updates, Senior Web Developer Matthew Barger "has worked day and night transforming the HCPSS website first for COVID-related information and then for Continuity of Learning…He thinks outside the box and can always be counted on, whether for website development or any communications needs."
Wilde Lake Middle School Day Building Custodian Supervisor Glenda Robertson is among the many HCPSS operations, custodial, grounds and building maintenance staff members who have made sure all schools and administrative buildings have been extensively cleaned and disinfected. "Thank you Glenda for the work you have done to ensure our building is safe and secure to eventually make our return to the Lake!"
Photo captions (top to bottom): Asset Management Assistant Manager Monique Ingram works tirelessly to deploy computers to students; CTE ARL Automotive Technology Academy Teacher Tom Dearstine has kept his students motivated and engaged during Continuity of Learning; and Howard High School Cafeteria Manager Kristin Rhodes is working to make certain HCPSS families do not go hungry.