Staff Focus: Sarah Mayhew, ESOL Teacher, Well-Being Representative, Oakland Mills Middle School
February 10th, 2020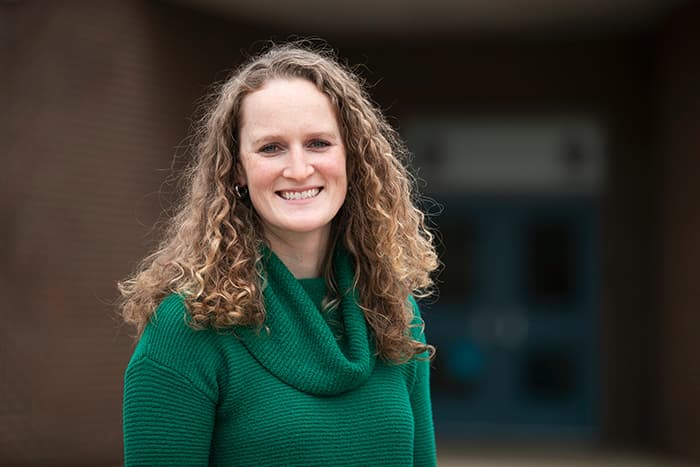 From an early age Sarah Mayhew recognized the beauty of diversity as she grew up in West Baltimore, where she was surrounded by languages different from her own. At the same time, she discovered her love of working with kids as she helped with her mother's in-home daycare. Mayhew went on to study Spanish in college and study abroad at an international university in Spain, where she helped her friends from around the world learn English, and decided that teaching English for Speakers of Other Languages (ESOL) was her calling.
"Since I was little, I've been inspired to learn about other cultures and ways of life. There's so much we can bring back to our own lives and teaching, when we see how things are done elsewhere. We can see what draws us together and what our unique differences are," Mayhew said. This passion led her to later participate in a Fulbright fellowship in India, where "I didn't know the language and could experience what our English language learners experience every day."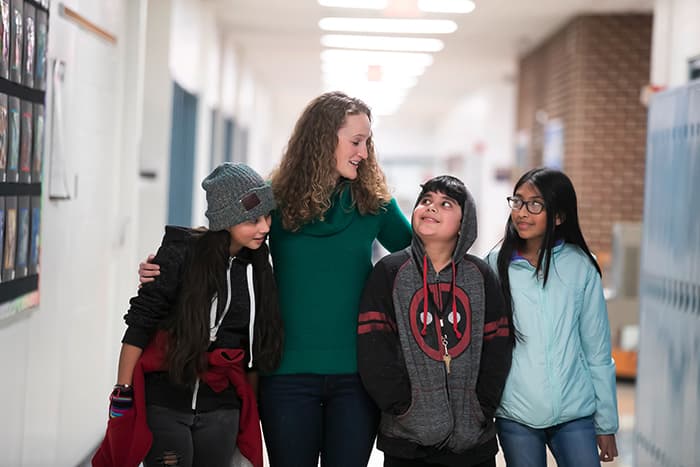 At Oakland Mills Middle School, Mayhew supports 38 English language learners by keeping in touch with families, co-teaching classes, and collaborating with teachers to provide differentiated learning opportunities and incorporate diverse texts into the curriculum. "My biggest challenge is to give my students an access point to what's happening in the classroom, so they can be successful and move on to high school and beyond," Mayhew said.
Oakland Mills Middle School Hispanic Achievement Liaison Teresa Norman, who works closely with Mayhew, said: "Sarah is a teacher through and through. Her face lights up when she teaches, and she is full of energy. She is such a positive person; it translates to students, making them want to learn."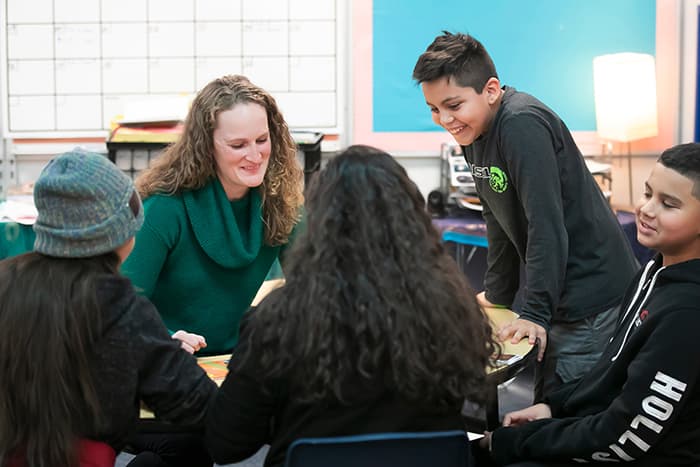 To bring her best self to the classroom, Mayhew quickly realized she needed to enhance her self-care efforts. She has been acquiring well-being tools her entire life, from her parents encouraging her to take walks to ease stressors to witnessing the power of school-wide morning meditations in India and becoming a yoga teacher. She incorporates these techniques in her classroom to help build relationships, create a safe space and find creative ways to get kids engaged.
This year Mayhew also jumped at the opportunity to become her school's well-being representative for staff. She's embraced the role by sending weekly emails with resources and tips, creating fitness challenges, teaching weekly after-school yoga to staff and more. Mayhew explained, "When we're good to ourselves, that transcends into the classroom and school culture."
Oakland Mills Middle School G/T Resource Teacher Meghan Walker mustered up the courage to try yoga, thanks to Mayhew's approachability. Now as a regular in Mayhew's after-school staff yoga sessions, Walker said, "Sarah has helped me stop and be present, which has helped me in the classroom. If students are having a hard time, I can take a moment and encourage them to take a breath or use other mindfulness techniques. It's been restorative."