HCPSS Congratulates 35 2018 National Board Certified Teachers
April 1st, 2019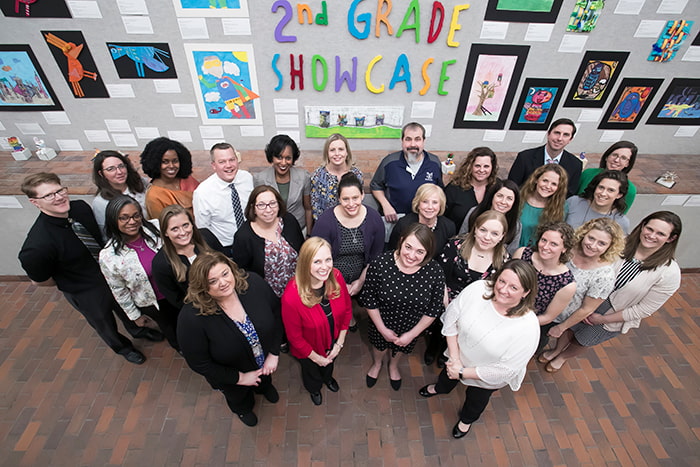 At the March 28 Board of Education meeting, HCPSS recognized 35 teachers who achieved certification in November 2018—21 first-time achievers and 14 who renewed their certification.
National Board Certification (NBC) is the highest-level credential in the educational profession. Teachers who achieve National Board Certification have met rigorous standards through intensive study, self-assessment, peer review and expert evaluation.
Howard County is among the top five Maryland districts by historical number of NBCTs, with a total of 211 teachers who have achieved national certification. HCPSS is also among the top five Maryland districts for the number of current National Board candidates, with 62 teachers currently pursuing certification.
The HCPSS NBC program is a joint partnership with the Maryland State Department of Education (MSDE). The school system combines resources with MSDE to support candidates through a scholarship program. HCPSS also partners with the Howard County Education Association to support the NBC program.
The newly certified achievers are:
Tracey T. Bauer, secondary science, Elkridge Landing Middle School
Laura Behrens, secondary mathematics, Murray Hill Middle School
Angela A. Bernard, secondary engineering and technology, Wilde Lake Middle School
Lisa Berzenski, secondary mathematics, Reservoir High School
Ashley Davis, reading specialist, Bollman Bridge Elementary School
Nicole Ellis, secondary mathematics, Oakland Mills High School
Jean-Marie Fahey, special education, Elkridge Elementary School
Alyssa Gazarek, Grade 1, Laurel Woods Elementary School
Christina Bleivik Hewitt, health and physical education, Oakland Mills High School
Erin Randall, reading specialist, Veterans Elementary School
Timothy Reinhardt, orchestra, Hammond Middle School
Christina Royston, secondary science, Hammond High School
Diana M. Sargeant, Grade 3, Lisbon Elementary School
Molly C. Schaefer, secondary mathematics, Murray Hill Middle School
Gail Marlene Sorenson, secondary mathematics, Mount View Middle School
Derek Toth, secondary English, Burleigh Manor Middle School
Katherine Volpe, secondary Social Studies, Wilde Lake High School
Nicola Erica Walker, Grade 5, Lisbon Elementary School
Knetha McCord Wallace, ESOL, Laurel Woods Elementary School
Bonnie Lynn Zeitler, strings, Manor Woods Elementary School
The renewal achievers are:
Erin Elena Ault, secondary English, Folly Quarter Middle School
Kathleen Beale, kindergarten, Deep Run Elementary School
Wanda Bulkowski-Larsen, secondary art, Long Reach High School
Lorene Cannella, computer science, Marriotts Ridge High School
Brice Dawson, secondary Social Studies, Ellicott Mills Middle School
Lindsay Madden Kelley, mathematics instructional support, Wilde Lake Middle School
Matthew Kinloch, secondary science, Glenelg High School
Jennifer Ludwig, Grade 1, Longfellow Elementary School
Linda Beck Pieplow, secondary English, Clarksville Middle School
Lynn Rashid, media specialist, Marriotts Ridge High School
Marc David Rosenberg, Project Lead the Way, Marriotts Ridge High School
Susan Elizabeth Ryan, geography, Folly Quarter Middle School
Julia Dacruz Vereen, secondary science, Lake Elkhorn Middle School
Elizabeth Zinger, mathematics, Thomas Viaduct Middle School