Bright Minds Foundation and HCPSS Recognize Outstanding HCPSS Alumni and Staff in 2019 Night of Honor
April 30th, 2019
Bright Minds, the official foundation of the Howard County Public School System, partnered with the school system to honor outstanding alumni and staff at an event held May 7. The Night of Honor event recognized three outstanding alumni and 22 exemplary HCPSS staff members.
Select the photo below to view a full Flickr album from the Night of Honor.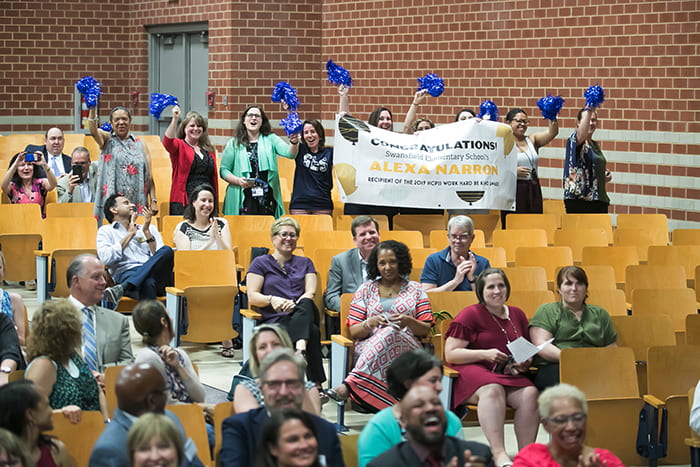 At the event, three alumni who have made significant contributions in Howard County were honored. The inaugural recipients of the Work Hard Be Kind Outstanding Alumni Award are:
Katie George, professional development instructor at Howard County Library System (HCLS), is a graduate of Howard High School. Nominator Sarah Russo tells us that George "came to librarianship through an unlikely and artistic route – a job working at Disney World and a passion for puppetry." George has worked for the HCLS in children's services, has served as a supervisor and instructor of services for teens, and currently is the leader of professional development in the system. In 2011 she won the Young Adult Library Services Association Award for Best Teen Literature Program.
Robert Glascock, retired assistant superintendent of curriculum, instruction and technology for HCPSS, is a 1970 graduate of Howard High School. Nominator Marie DeAngelis writes, "The scope, depth, length and impact of Mr. Glascock's service are truly extraordinary. Early in his career, he recognized the need to make sure that all children could see themselves in the Howard County curriculum. As a curriculum leader, he established the expectation that Howard County's curriculum would reflect the diversity in the student population. To better prepare students for schools, he advocated for early childhood programs and expanded the Pre-K program while transforming the kindergarten curriculum to focus on literacy and numeracy." In addition to his 38 years of service to HCPSS, Glascock also served as executive director of the Maryland State Department of Education Breakthrough Center.
Lawrence Walker Sr., Deputy Pastor of Celebration Church at Columbia, is a 1976 graduate of Wilde Lake High School. In addition to his service to his church, nominator Meghan Ringgold highlights Walker's contributions to the community in the area of parent and community involvement in public education. She writes, "He served as president of the Parents of African American Students (Mt. Hebron High School) and in April 2008 was the recipient of the first statewide Parent Involvement Matters Award from the Maryland State Department of Education. He has served on the school system's Operating Budget Review Committee and Community Advisory Council and participated in MSDE's standard setting for Maryland's plan for the Every Student Succeeds Act. He served as an appointed member of the Howard County Board of Education from July to December 2014. He also served as the first vice president of the African-American Community Roundtable of Howard County and currently serves as president of the group."
Bright Minds and the school system also celebrated the 2019 HCPSS Principal of the Year, Josh Wasilewski, Long Reach High School; the HCPSS Teachers of the Year, Sylvia Hennessie, Guilford Elementary School, and Greg Murach, Mt. Hebron High School; and the 19 inaugural recipients of the HCPSS Work Hard Be Kind Award. The award, created by Martirano, honors HCPSS employees who go above and beyond to embody kindness while consistently doing their best work.
The Work Hard Be Kind Award recipients are:
Tracey Albright, Stevens Forest Elementary School
Gerald Carroll, St. John's Lane Elementary School
Melva Cole-Fleet, Wilde Lake Middle School
Debbie Costley, Patuxent Valley Middle School
Paul Curry, Jr., Laurel Woods Elementary School
Terri Enke, Central Office
Karen Forte, Ducketts Lane Elementary School
Allen Hall, Talbott Springs Elementary School
Laura Hulett, Folly Quarter Middle School
Kathy Koehnlein, Atholton High School
Debra Logan, Cradlerock Elementary School
Gisele Morin-Connolly, Cedar Lane School
Alexa Narron, Swansfield Elementary School
Michelle Robinson, Forest Ridge Elementary School
Peter Skold, Bonnie Branch Middle School
Lisa Sweeney, Oakland Mills Middle School
Lynn Trapuzzano, Custodial Services
Jamie Travers, Centennial Lane Elementary School
Kelsea Valance, Burleigh Manor Middle School
The celebratory event was emceed by members of the All County Improv troupe, and included music by the Marriotts Ridge High School jazz combo and light refreshments.