Students Experience Howard County Library's Undesign the Redline Exhibit
January 7th, 2019
Photo credit: Howard County Library System/Geoffrey S. Baker
Howard County students and community members have recently had the opportunity to visit the Undesign the Redline exhibit at the Howard County Library's Central Branch. The interactive exhibit explores the history of structural racism and classism related to real estate lending beginning in the 1930s.
Recently, 84 Long Reach High School students, who are part of the REACH Academy for freshmen, visited the exhibit as part of their U.S. History and English Language Arts classes. The purpose of the trip proved valuable beyond simply aligning with the curriculum.
The mission of the REACH Academy is "to accelerate student achievement through the first year of high school." It centralizes relationships as the key to learning where students help build school community, participate in an accelerated course progression, and experience co-curricular activities with the intent to increase engagement.
"Our Freshman REACH Academy is built on the philosophy of restorative justice and the Strategic Call to Action's four overarching commitments: value, connect, achieve and empower," said Kenny Porritt, Long Reach High School special educator and REACH Academy Program lead. "Those families who were, and continue to live, in 'redline' communities often feel devalued and disconnected. The exhibit illustrates the inequities people in redlined areas are subjected to."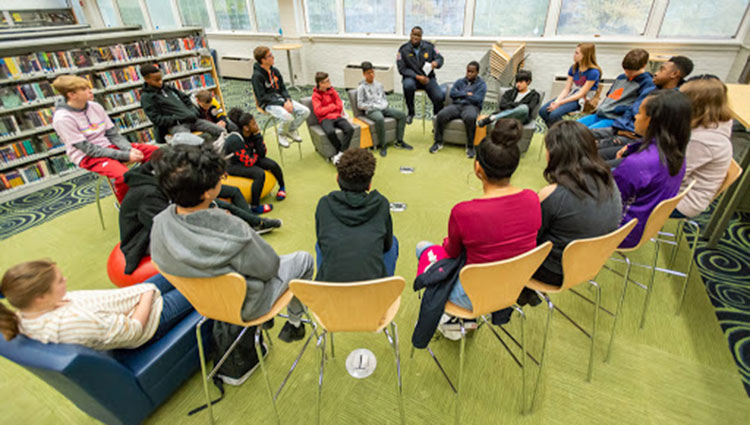 Photo credit: Howard County Library System/Geoffrey S. Baker
Relationship building is the focus and foundation of success for the students in the school's REACH Academy Program. Students support one another in overcoming barriers to achieving 9th grade milestones through an inclusive and equitable culture, accelerated course progression, and innovative instructional program.
"Now that we have been through this trip as a community and have built an awareness of the idea of undesigning the redline, it is important that we build upon this experience," added Kamille Guinn, English Language Arts Teacher at Long Reach. "We have plans to move forward with our shared experience and discuss future planning to continue our mission of growing our community.
The Undesign the Redline exhibit is open to the public through February 2019. Visit the Howard County Library System website for additional information.
« Student Correspondent – The Aftermath of the 2018 Ellicott City Flood: Could More Have Been Done?
G/T Advisory Seeks Nominations for Educator Recognition, Due February 15, 2019 »