Staff Focus: Kathleen Wojcik, Agricultural Science Academy Teacher, Applications and Research Laboratory
January 15th, 2019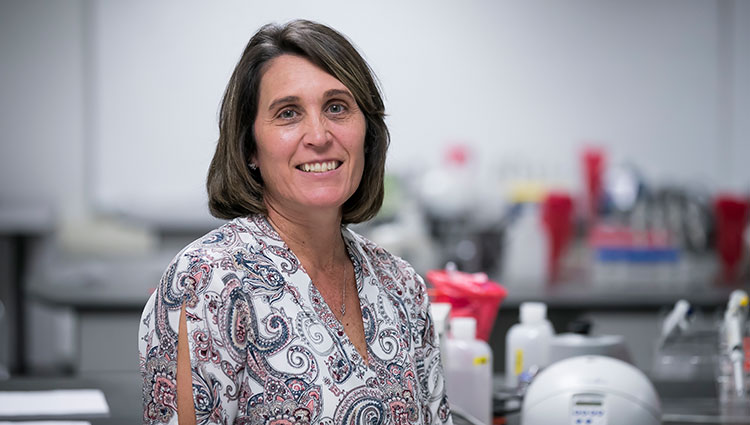 Kathleen Wojcik exudes strength and competence as the first teacher of the newly re-established Agriculture and Natural Resources Academy (Agricultural Science Academy). All her experiences have equipped her for this role as not only teacher, but advocate for the agriculture industry and students considering an agriculture career path.
Wojcik's farming experience is rooted in her upbringing on a small farm in Woodbine, Maryland, which raised swine, beef cattle, chickens and corn. As the youngest of four siblings, Wojcik began by feeding chickens and collecting eggs. Completing chores before playing, along with abiding by family values of hard work and perseverance, was expected.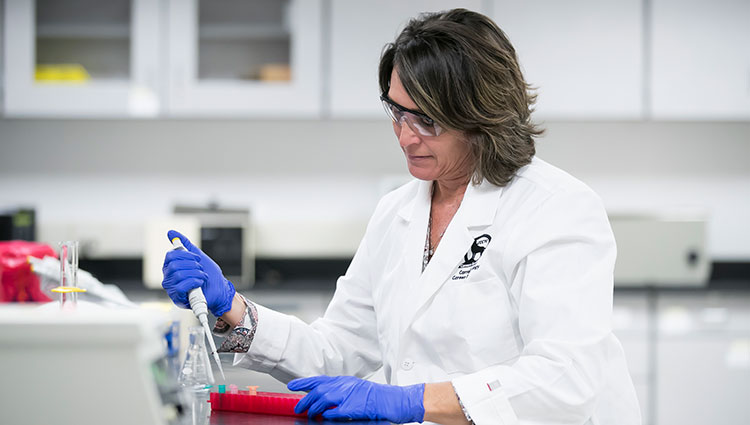 Wojcik's passion for agriculture was established when she started showing the family animals through the 4-H fair circuit. Wojcik said, "At first, our dad chose which animals we'd each show. We'd care for our pig etc and show it at fairs—Frederick, York, State. If our animal won or lost, the family won or lost. But individually, we owned the showmanship of handling and presenting." Wojcik became an active 4-H member and went on to earn an animal science degree at the University of Maryland, College Park.
When she married, Wojcik and her husband—whose interest was agronomy, or the science of soil management and crop production—bought a turf farm and landscaping business in Harford County. They suffered farmers' stresses, such as weather dependence and the changing times. Wojcik, now also fascinated by agronomy, learned about soils and how to keep the business going. She continually explored new commercial avenues, at one point installing lawns for a Ryland home development. When Wojcik had her three children, they did farm chores, joined 4-H and showed animals as Wojcik had, and they continue to raise and show livestock now as young adults.
Agricultural Science Academy students benefit from Wojcik's many years of teaching agriculture and biomedical science and serving as a National FFA Organization advisor. The academy's CASE-structured curriculum incorporates learning about productive agriculture, processing, distributing, marketing and research. Academy members also become members of the FFA, which Wojcik recently reinstated here.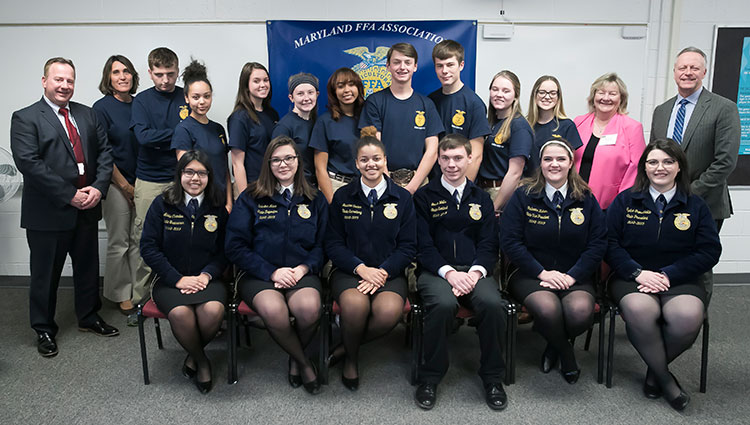 Wojcik affirms agriculture is not just about plows and cows. The many-faceted industry also includes soil management, water quality, ecosystems, technology and biotechnology. The academy's students are not from only farming families—although Wojcik was in 4-H with some of their parents!—and their interests are diverse. "Our academy has future restaurateurs, horticulturalists and techies. There's something for everyone. Howard County agriculture students will be college and career ready," Wojcik said.
Sharon Kramer, coordinator of Career and Technology Education, said: "With Kathy's strong background, passion and enthusiasm for the field, she brings Howard County agriculture alive. We are so fortunate to have such a talented teacher. She thinks the world of our students, and they are so empowered."
ARL Principal Karl J. Schindler agreed: "Kathleen's depth of knowledge in the field of agriculture and her passion for teaching and promoting her students allow her to excel in the classroom. Her students are challenged and motivated, and I am very pleased to offer this exciting, new academy to our students. I am honored that Kathleen joined the excellent ARL teaching staff this year."