Chinese American Parent Association Partnership Encourages Involvement and Advocacy
November 19th, 2018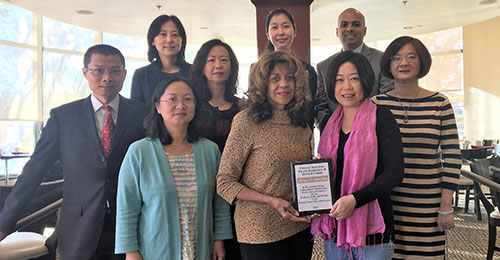 The Howard County Public School System (HCPSS) has partnered with the Chinese American Parent Association of Howard County (CAPA) to encourage collaboration, communication and mutual understanding among HCPSS staff, students and families with Chinese background. The partnership was formalized with an official partnership signing on Friday, November 16 at the Sheraton Columbia Waterside Restaurant in Columbia, Maryland.
Under the terms of the agreement, CAPA representatives will collaborate with the HCPSS International Student and Family Services Office to offer an International Parent Leadership Program for Chinese families. The program is designed to help parents navigate the school system and develop the confidence to serve as advocates for their children. CAPA will offer parent-friendly panel discussions to help Chinese families new to Howard County learn about the variety of HCPSS offerings available for students and parents. Topics will include dual enrollment, Gifted and Talented programs, managing school transitions and college readiness.
CAPA members will also collaborate with school staff to support school celebrations and international nights, provide information about Chinese food history and participate as classroom speakers to share Chinese culture and experiences as immigrants.
HCPSS will share information with CAPA about topics of interest to Chinese families new to Howard County and the variety of resources available through HCPSS including interpreting services and support programs. HCPSS will also inform CAPA about ways to learn about volunteer opportunities such as participating on policy review committees and advisory boards to help inform school leaders about the needs and offerings of Chinese students and families.
Howard County Board of Education Vice Chair Mavis Ellis, HCPSS Chief Communication, Community and Workforce Engagement Officer Jahantab Siddiqui and International Student and Family Services Specialist Min Woo joined Chinese American Parent Association President Jean Xu, Vice Presidents Chao Wu and Hongling Zhou, Treasurer Lili Zhang, Secretary Lan Deng and Board Member Jodie Wang to sign the formal partnership agreement at the November 16 event.
The Chinese American Parent Association of Howard County informs parents about public school education and community matters, encourages parent involvement in public school activities and community events and empowers parents to advocate for their children.
The Howard County Public School System's Partnerships Office has united schools with more than 1,000 businesses and community organizations to enhance the educational experience of Howard County students. Partnerships benefit schools, businesses and the entire community by leveraging the resources of all participants. Partners may commit human or financial resources or other support.