Long Reach's Mimi Britt Becomes First Female to Score a Touchdown
September 25th, 2018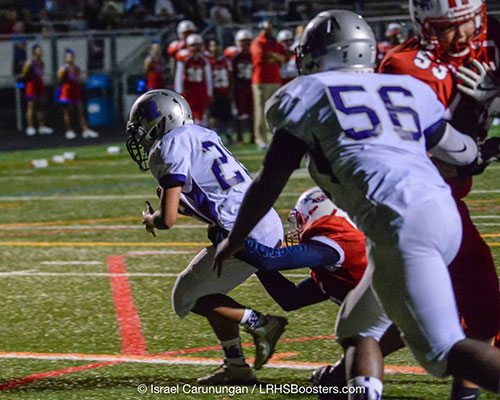 "When I want to do something I'm going to do it."
That's the mindset that Long Reach High School Junior Running Back Mimi Britt said she has had throughout her life — including on the varsity football field. Britt, who didn't begin playing tackle football until her freshman year at Long Reach, became the first female in Howard County history to score a varsity touchdown on Friday night in the game against Centennial High School.
Head Coach Jamie Willis, who hoped to see Britt score her first touchdown Friday, said he called a wedge-right, which essentially becomes a massive wall of blockers leading their running back. In this case, Britt, who hadn't practiced this particular play, took the handoff at the 8 yard line, began up the middle, and made a quick and decisive move to follow her blockers into the endzone. "She made a great cut," Willis remembered.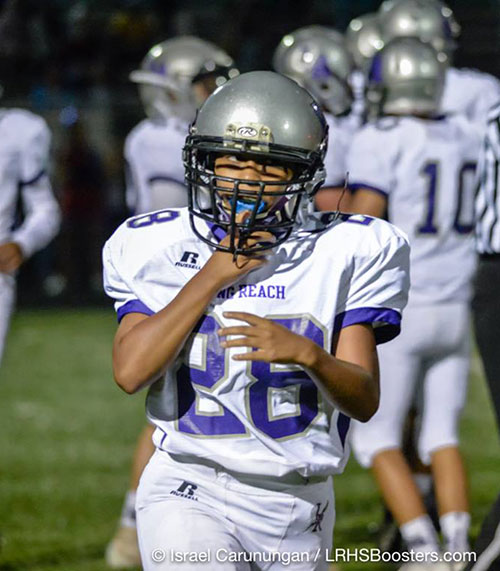 Prior to making the junior varsity team as a freshman, Britt played flag football as her mother was hesitant to allow her daughter to participate in a contact sport. "I was a super, super active kid and really aggressive because I grew up with brothers," Britt said.
After missing her sophomore season due to a severe injury incurred during the spring track season, Britt had a large road ahead of her to prove to her coaches that she was up to the challenge of varsity football. Coach Willis stressed that, while he rarely makes cuts, he will do so if he believes a player – male or female – can't protect themselves physically on the field. After a preseason scrimmage, he knew that she was able to hold her own.
Following the historic score Friday night, Britt said that she was most overwhelmed by the response of her teammates. "I didn't expect everyone to be so energetic about my touchdown," Britt said with a glowing smile. "I was super, super excited."
"We preach family and community here at Long Reach High School which makes Long Reach great," said Willis. "Their reaction to seeing their sister score was huge."
Britt hopes to continue to grow as a player and take her skills to the next level by playing in college.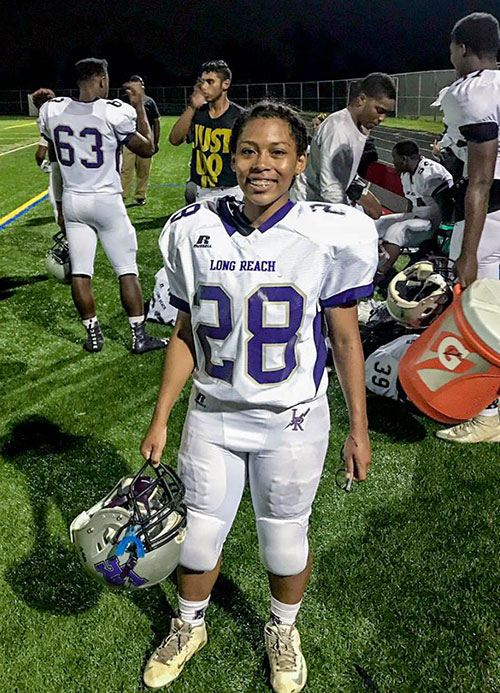 Images courtesy of Israel Carunungan of the Long Reach Boosters and Long Reach Football
Last nights 5yrd TD RUN by RB @_thatkidmimi "Lady Lightning" EZ view pic.twitter.com/t0B4EM18qJ

— Long Reach Football (@Long_ReachFB) September 22, 2018
Check her out! WTG Mimi – making HERstory as the first @hcpss_lrhs @Long_ReachFB female to ever score a touchdown! 👏🏽👏🏽👏🏽 #CelebrateHCPSS https://t.co/1f2yFftL1s

— HCPSS (@HCPSS) September 22, 2018