Coastal Conservation Association Maryland Partnership Engages Students in Environmental Stewardship
September 17th, 2018
Dunloggin Middle School has partnered with Coastal Conservation Association Maryland (CCA Maryland) to educate students about the importance of habitat creation and restoration to improve the environment in the Chesapeake and Coastal Bays. The partnership was formalized with an official partnership signing on Friday, September 14 at the Sheraton Columbia Waterside Restaurant in Columbia, Maryland.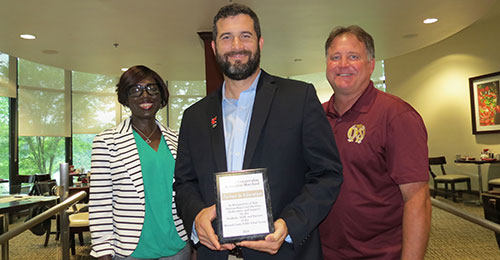 Under the terms of the agreement, CCA Maryland will collaborate with Dunloggin Middle School staff to develop classroom lessons and hands-on activities focused on advancing the science of habitat creation and restoration. Through CCA Maryland's Living Reef Action Campaign, students will construct three-dimensional art reef components and learn how they are deployed in the bay and its tributaries. CCA Maryland will monitor the success of the reef building efforts by measuring changes in water clarity and quality, biodiversity, oyster growth and recruitment, and evaluating of different reef building techniques and practices.
Dunloggin Middle School Principal Antoinette Roberson and Science Teacher Daniel Blue joined Coastal Conservation Association Maryland Executive Director David Sikorski to sign the formal partnership agreement at the September 14 event.
Coastal Conservation Association Maryland advises and educates the public on the conservation of marine resources, and works to conserve, promote, and enhance the present and future availability of coastal resources for the benefit and enjoyment of the general public.
The Howard County Public School System's Partnerships Office has united schools with more than 1,000 businesses and community organizations to enhance the educational experience of Howard County students. Partnerships benefit schools, businesses and the entire community by leveraging the resources of all participants. Partners may commit human or financial resources or other support.