Nicole Meshbesher, School Psychologist, Patapsco Middle School and Thunder Hill Elementary School
October 18th, 2017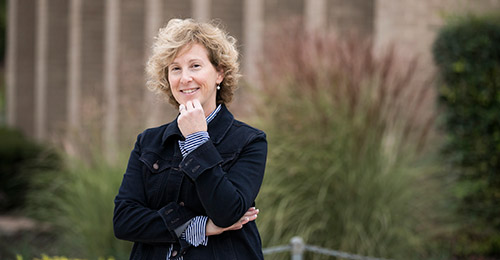 School psychologist Dr. Nicole Meshbesher can list a multitude of reasons why she loves her job: the variety, the collaborative problem solving, and the opportunities to make a schoolwide impact and learn from her colleagues and students. Currently at Patapsco Middle and Thunder Hill elementary schools, Meshbesher said, "School psychologists wear different hats to try to come up with strategies and solutions that help kids be successful. I love the opportunity to connect and partner with educators, community mental health providers and families, all to support kids."
School psychologists promote educationally and psychologically healthy environments for students by implementing programs that prevent problems, enhance independence and promote optimal learning. Meshbesher helps students on strategies such as academic, behavioral, emotional regulation, problem solving, coping and social navigation. This can take place through IEP and 504 meetings, assessments, crisis supports, small group and one-one-one sessions, parent phone calls, school staff collaborations, and generally "always being available as much as I can be," Meshbesher said.
"One of the things I really like doing is to look at data to help make decisions and try to problem solve on how to support kids who might be struggling academically. I try to remember to look at what students can do and build on the positive," Meshbesher said.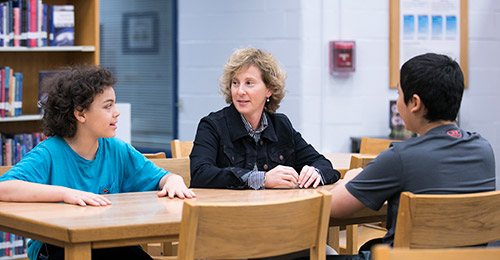 Dr. Cynthia Schulmeyer, coordinator, School Psychology, Section 504 and Instructional Intervention, describes Meshbesher as someone who is "highly sought out by students, staff and families. She identifies academic, behavioral or social-emotional barriers to learning then provides support and interventions to address these concerns. Her calm demeanor, expert knowledge, high standards and willingness to help is an asset to her school communities as they strive to ensure academic success and social-emotional well-being for each student."
In her 11th year at HCPSS, Meshbesher explained, "Howard County is aligned with my philosophy as a school psychologist because the school system allows for a broader role and there are so many things I can be involved in." She especially enjoys working on systemwide and schoolwide initiatives, including brainstorming best practices on middle school instructional interventions and leading executive functioning skill presentations for families and students. At Patapsco, she's launched staff and parent conversations and Student Voice initiatives around social justice and cultural proficiency issues, which are particularly dear to Meshbesher.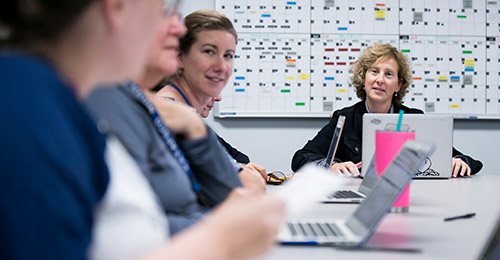 Meshbesher's life is immersed in education, with a family full of teachers and a professional life dedicated to the profession. She first served as a secondary special education teacher and department chairperson and sports coach in Anne Arundel County Public Schools. Then, at the time of her father's passing, she promised herself she would pursue her true calling and earn a Ph.D. in Counseling and Personnel Services at the University of Maryland. She's been with HCPSS ever since her graduate school intern days, and has enjoyed growing as a school psychologist at six elementary and middle schools.
Her schools are grateful for Meshbesher in return. "Dr. Meshbesher stands out as among the best in the field of school psychology because of her ability to frame her work in a way that impacts the effective operation of the entire school. As a result of her membership in our school community, we have grown and developed programs that have had unique and positive impacts on students, teachers and community members," Patapsco Middle School Principal Cynthia Dillon said.
Thunder Hill Elementary School Principal Marti Bowen Miller agreed, "Dr. Meshbesher is a resource for our teachers as she shares strategies for dealing with challenging behaviors, supports students in need, and connects families with community services to best serve the needs of their children. We applaud Dr. Meshbesher's efforts as she promotes our school's vision of 'Education with Heart.'"
« Board of Education to Hold Second Public Hearing on Attendance Area Adjustment, October 30
Board of Education's Legislative Committee October 23 Meeting Canceled »