Gwyneth Jones, Media Specialist, Murray Hill Middle School
March 8th, 2017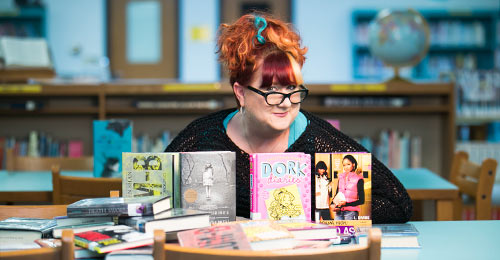 Not all library media specialists have mission statements, but Murray Hill Middle School's daring librarian Gwyneth Jones sure does. Jones has dedicated her professional life to defending lifelong learning, supporting intellectual curiosity, and committing herself as a positive change agent at her school and beyond.
Internationally recognized in her field, Jones' efforts are rooted in advocacy for her students and a love of reading. She branded herself as the "daring librarian" to boldly claim responsibility as her own program's champion. Jones said, "I want to be that person who gives our kids a safe environment where they feel accepted, a haven of learning and sharing ideas." Even broader, Jones continued, "Educators have the power to change the world. I see the media center as a hub of our school, so I want to celebrate all the cool things happening at Murray Hill every day."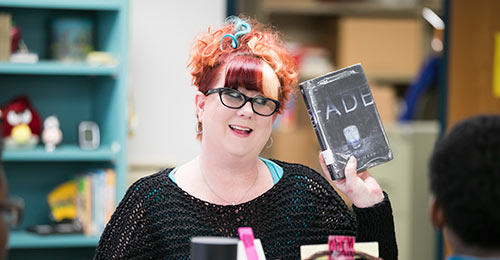 Jones further views her role as a "conduit of innovation for my school." She's often the first to introduce cutting-edge instructional opportunities–which meant dial-up Internet and "Where in the USA is Carmen Sandiego" a couple decades ago, and global Google Hangout book discussions, Amazon Echo and a Pokémon Go QR code scavenger hunt in recent years. Jones said, "I like the opportunity to give my kids exposure to innovations because the digital divide is very real in the United States and Howard County." She continued, "It's not the device or app we use that matters. My students will remember how it felt to be daring and try new things."
Jones enjoys partnering with many subject areas, supporting research projects and special events like History Day and the science fair. Recently students took part in "speed dating" to find their perfect book matches quickly. Last October, she supported a 7th grade ELA research project, an Edgar Allan Poe museum, which came alive as a haunted house. All in all, Jones said, "I love helping kids explore different worlds."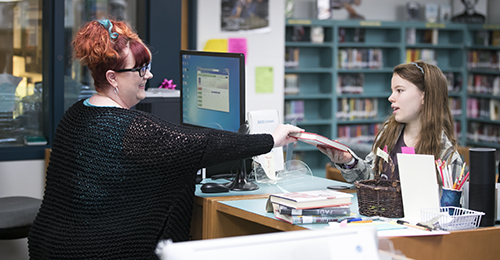 Jones appreciates her supervisors and principals' continued support as she continues to move the media center forward. In turn, HCPSS Library Media Coordinator Melissa Daggett said, "Gwyneth's administrators are totally on board with her energy and excitement. She gets her students to see what's possible. She's a name in the profession nationwide, like a celebrity to our new media specialists and a resource for our county. "
Over her career, Jones has participated in dozens of presentations, interviews and leadership activities. She describes herself as "a blogger, a Tweeter, a trope and meme archivist, creator of content, a citizen of advocacy, and a resident of social media." Most notably, Jones was honored as one of the best 50 librarians internationally, and one of only three school-based teacher-librarians, through Library Journal's Movers & Shakers award. She also served on the International Society for Technology Education board of directors for two terms.
Jones understands the value of championing good causes–she spent the earliest part of her career in nonprofit and magazine marketing. But "always a library person," Jones found her calling when she went back for her graduate degree in instructional technology. She spent five years at Guilford Elementary School's media center before joining Murray Hill. At Murray Hill she quickly realized that "middle schoolers–with their sense of humor and daringness–are my people."