Jack and Jill Partnership Promotes Philanthropy and Volunteer Services
February 27th, 2017
The Howard County Public School System (HCPSS) is partnering with the Columbia, Maryland Chapter of Jack and Jill of America to nurture future African-American leaders by promoting volunteer service and philanthropic giving. The partnership will be formalized with an official signing on Tuesday, February 28, at the Sheraton Columbia Waterside Restaurant in Columbia, Maryland.
Under the terms of the partnership agreement, Jack and Jill will collaborate with the HCPSS Office of Community Outreach and Engagement to support students and families by annually donating educational books to elementary and middle school media centers. Jack and Jill also will award college scholarships to graduating seniors at each HCPSS high school.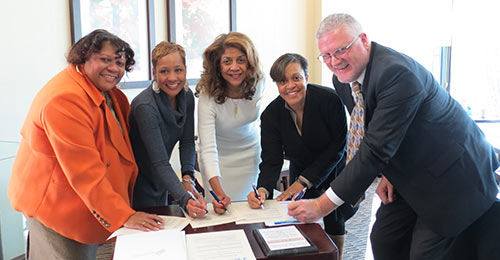 Jack and Jill teen members will volunteer with community organizations that offer support for HCPSS students and families through programs that provide weekend food, emergency shelter services and donated gift items. Aligned with Vision 2018, this partnership supports student well being and the development of strategies to connect directly with families in need of additional support.
Howard County Board of Education Member Mavis Ellis, and Director of HCPSS Community Outreach and Engagement Diane Martin, will join the Columbia, Maryland Chapter of Jack and Jill of America President Christel Curtis and Vice President Sharon Barnes to sign the formal partnership agreement at the February 28 event.
Jack and Jill of America, Inc. is a membership organization of mothers with children ages 2–19 dedicated to nurturing future African-American leaders by strengthening children through leadership development, volunteer service, philanthropic giving and civic duty. Nationally, Jack and Jill has more than 230 chapters nationwide, representing more than 40,000 family members. The Columbia, MD chapter has over 90 parents who serve the community in many ways.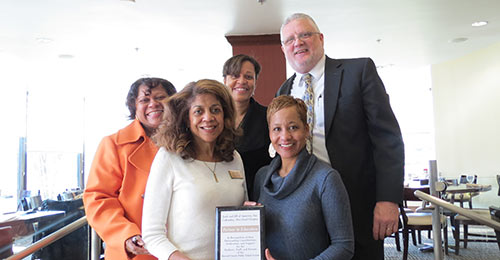 The Howard County Public School System's Partnerships Office has united schools with more than 1,000 businesses and community organizations to enhance the educational experience of Howard County students. Partnerships benefit schools, businesses and the entire community by leveraging the resources of all participants. Partners may commit human or financial resources or other support.
For more information, contact Partnerships Office Manager Mary Schiller at 410-313-6655 or mary_schiller@hcpss.org.