HCPSS Students Explore Biodiversity at Fall BioBlitz
October 5th, 2016
As part of the Howard County Conservancy BioBlitz the first week in October, elementary school students in the Howard County Public School System (HCPSS) had an opportunity to learn from scientists as they developed a catalog of plant and animal wildlife at Howard County's Belmont Manor and Historic Park.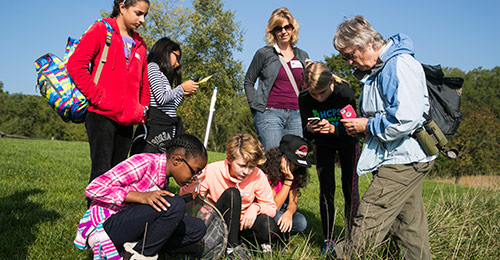 Students from Bellows Spring, Cradlerock, Deep Run and Talbott Springs elementary schools used observational skills and comprehensive GPS and mapping applications while working alongside researchers to discover, count, map and explore the biodiversity at the Belmont site.
Students' findings will contribute to an official park species list of birds, plants, mammals, insects, trees and more, which will be available for park visitors and the community on the iNaturalist mobile application, an international biodiversity database.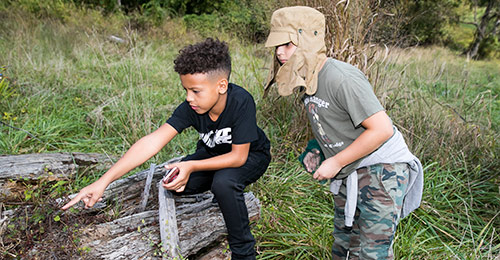 The BioBlitz program, offered in partnership with the Howard County Conservancy, connects to HCPSS science, technology, engineering and math curriculum programs by using comprehensive GPS and mapping applications. The Conservancy offers environmental education programs for children and adults throughout the year at Mt. Pleasant farm in Woodstock, and Belmont Manor and Historic Park in Elkridge.