HCPSS Partners with Elite Chiropractic & Sport and the Howard County Striders to Support High School Running Programs
June 9th, 2016
The Howard County Public School System partnered with Elite Chiropractic & Sport and the Howard County Striders to encourage the development of student athletes by providing resources and support for high school running programs. The partnerships were formalized with an official partnership signing on Friday, June 10 at the Sheraton Columbia Waterside Restaurant, 10207 Wincopin Circle, Columbia.
Both organizations will support high school running programs with Elite Chiropractic & Sport providing funding for meet management supplies and the Howard County Striders providing volunteers to help manage various cross country and track events. HCPSS will collaborate with both organizations to explore internship opportunities for high school students. In line with Vision 2018, these partnerships promote physical activity and provide opportunities for students to build competencies in athletics.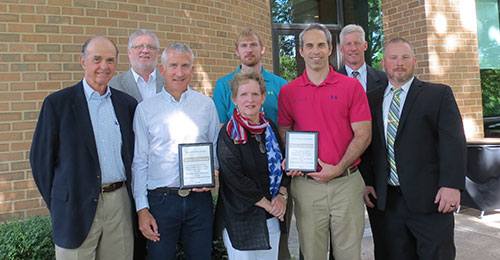 Howard County Board of Education Vice Chairman Ellen Flynn Giles, HCPSS Executive Director of School Improvement and Administration Frank Eastham, Coordinator of Athletics John Davis, Commissioner of Track and Field Matthew Clever and Wilde Lake High School Principal James LeMon joined Elite Chiropractic & Sport Owner Josh Bross, Chiropractor Stephen Knoyer, Howard County Striders President Donnie Chapman, Vice President John Bratiotis and Liaison David Tripp, to sign the formal partnership agreements at the June 10 event.
Elite Chiropractic & Sport provides a full range of services individually designed to rapidly resolve injuries, restore function, and improve athletic performance.
The Howard County Striders running club is an incorporated non-profit organization dedicated to promoting lifetime fitness through running. The Striders is one of the largest, most involved clubs in the mid-Atlantic area.
The Howard County Public School System's Partnerships Office unites businesses and community organizations with schools to enhance the educational experience. Partnerships benefit schools, businesses, and the entire community by leveraging the resources of all participants. Partners may commit human or financial resources or other support.
For more information, contact Partnerships Office Manager Mary Schiller at 410-313-6655 or mary_schiller@hcpss.org.