HCPSS Student a Finalist in 2016 National Doodle 4 Google Contest
February 4th, 2016
Clarksville Middle School 7th-grader Anjali Pulim was named the Grade 6–7 Maryland state winner in the nationwide Doodle 4 Google art competition. She is now in contention to be a national finalist.
Doodle 4 Google is an annual program that invites K–12 students nationwide to redesign the Google homepage logo. A "doodle" is the logo design that appears on www.google.com periodically to celebrate special events, holidays, or artists and inventors. Each year, Google invites students across the country to doodle based on a special theme. This year's theme was "What makes me…me."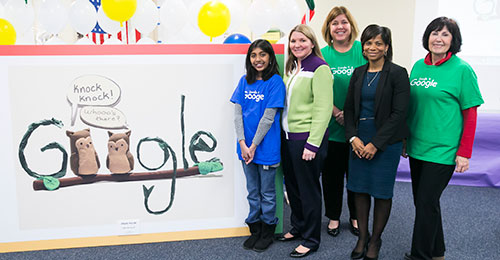 In crafting her Doodle, Anjali said, "One of my favorite hobbies is sculpting mini-figures out of polymer clay. The owl is one of my favorite animals because they symbolize intelligence, and I also love creating witty little cartoons. I go about my day imagining every little humorous event like a comic. These things make me, me!"
The public can vote online for their favorite doodle from February 5–22 by visiting the Doodle 4 Google website. The student from each grade group with the highest-ranking design will be named a national finalist. National finalists will receive a $5,000 college scholarship. The ultimate finalist will receive a $30,000 college scholarship and a $50,000 technology grant for their school, in addition to other prizes.