Art Showcase: Teacher as Artist, Through November 20, 2018
October 8th, 2018
Through November 20, Monday-Friday, 8:30 a.m.-4:30 p.m–Howard County Department of Education, 10910 Clarksville Pk., Ellicott City
Please note that the building will be closed Tuesday, November 6.
Members of the public are invited to the Art Teacher As Artist showcase, featuring works by HCPSS K-12 visual arts teachers. All visitors must enter through the front door and sign in with photo I.D. at the security desk.
The HCPSS Visual Arts Office encourages art teachers to continue to explore and (re)discover their focus, and dual identity as artist and teacher by maintaining an active arts practice throughout their career. HCPSS congratulates the many art teachers who support this vision, believing that their own practice of art making is critical to furthering high quality visual arts education for all HCPSS students.
Can't make it to the showcase? Click the photo below to view more photos from the gallery.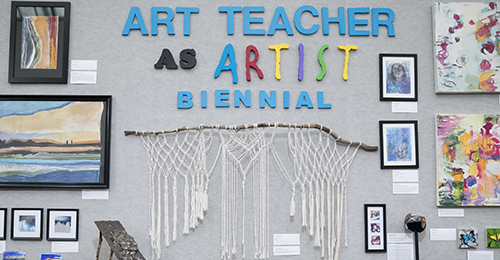 « Board of Education to Meet in Closed Session, October 8, 2018
New Policy Affirms Rights and Protections for HCPSS Foreign-Born Students and Families »